Josh Gad sent his support and love to his family friend Max Schachter after the bereaved father read a poem by his son Alex, who was killed in the Parkland, Fla. school shooting.

The Frozen actor, 36, tweeted about his friend Max after the latter appeared on CNN's televised town hall on Wednesday night to read the poem his 14-year-old son penned two weeks before his death at Marjory Stoneman Douglas High School.

Gad tweeted, "Watching our family friend # read his son Alex's poem tonight is almost too much for me to bear. Max, we are all with you. We love you. Your strength is incredible. Your son's poetry is light in this darkness. #"


— Josh Gad (@joshgad) February 22, 2018

https://platform.twitter.com/widgets.js

Alex's poem was written as a free verse and went as follows, "Life is like a roller coaster/it has some ups and down/sometimes you can take it slow or very fast/ it may be hard to breathe at times/but you have to push yourself and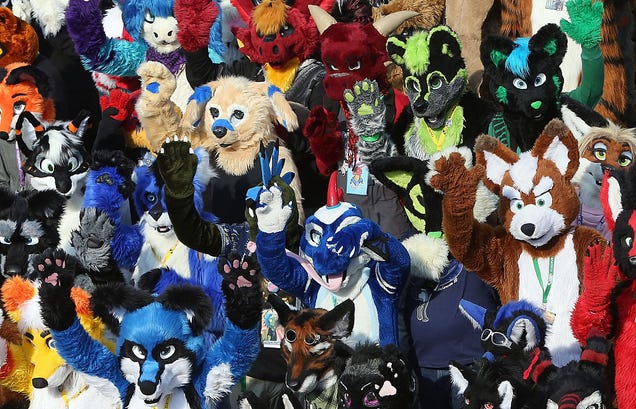 The number of furries is growing. Exact numbers are hard to quantify; going purely by numbers of convention attendees, they're expanding steadily each year, with almost 9,000 furries showing up to to Midwest Furfest in 2017 and over 7,500 to Anthrocon. (Those are the two biggest.) The subculture, long the subject of…

Read more...


In a thrilling victory, the U.S. women's hockey team emerged as victors Thursday in the Winter Olympic tournament final after beating out their longtime Canadian rivals to finally take home the gold.

And social media users were almost excited as the players following their down-to-the-wire win.

The gold medal game, in Gangneung, South Korea, was the latest installment in the recurring rivalry for first place between the American women and their northern neighbors. And fans and athletes alike ran to their keyboards to congratulate the team for finally ending Canada's winning streak.

"Congrats @ # way to give us heart palpitations just before bed woot woot @ # #," actress Elizabeth Banks tweeted.

Former Olympic figure skater Kristi Yamaguchi shared a photo of the athletes embracing in a group hug. She simply wrote: "Yeeessssssss!!! Congratulations @ # on GOLD!!!"


— Lil Wayne WEEZY F (@LilTunechi) February 22, 2018

https://platform.twitter.com/widgets.js


Maame Biney knows America thinks of her as the bubbly teenage speed skater competing in her first Winter Olympics.

And while it's true that she is bubbly and she is a teenager and she is a first-time Olympic speed skater, the thing she hopes audiences remember about her is her determination.

"What I would really like people to think, not think of me as the really bubbly girl that they see on TV. I want them to think of me as the really determined one be on the podium," Biney told PEOPLE earlier this week on the coast of Gangneung, South Korea.

"What I am going to take away from this experience that I have had is that I have to train harder and have to be the best at everything that I do," Biney says. "So I am really excited to go back home and to do that."

The 18-year-old, who emigrated from Ghana at age 5 and grew up in Virginia with her dad, charmed spectators at home and online with her seemingly constant sunniness and optimism, beginning with an almost viscerally joyful reaction in December to qualifying for Team USA.

An interview with Olympic medalist Apolo Ohno before the opening ceremony two week ago was similarly effusive.

"I like to make other people happy and I think I've accomplished that," says Biney, who recently signed a Kellogg's sponsorship. (While she usually eats healthier options like egg sandwiches, she admits her favorite breakfast is chocolate frosted flakes.)

Biney's cheeriness has buoyed her through her experiences in Korea, where she faced disappointment in a sport crowded with faster athletes. She competed in two short-track speed skating events here, the women's 500-meter and 1,500-meter.