Photo Illustration by Elizabeth Brockway/The Daily Beast/GettyDemocrats who have made a recreational pastime out of fact-checking President Donald Trump are urging their own nominee to take a night off.

Ahead of Tuesday night's first general election debate, Democratic party officials, campaign veterans, and allies of former Vice President Joe Biden are cautioning against performing the arduous task of debunking Trump's possible outbursts on the fly. Those who have watched his misleading briefings and meandering mega-rallies certainly expect the president to pass out lies like party favors on stage, but they believe that whiling away time trying to correct the record is just not worth it.

"If you spent your time calling out every Donald Trump lie that would be the entire debate," said David Pepper, the chairman of the Ohio Democratic Party, suggesting that Biden needs to avoid getting "trapped in a Donald Trump-style crazy show" live in Cleveland.

Read more at The Daily Beast.


NBCShepard Smith's new CNBC show is called simply The News. And with that in mind, the former Fox News anchor is trying his best to play everything right down the middle.

Ahead of his premiere this Wednesday, Smith appeared on his new network colleague Jimmy Fallon's Tonight Show, where he offered up a series of non-committal, both-sides takes on the biggest news events of the week.

Smith got in one joke about Donald Trump writing off $70,000 in hairstyling expenses but otherwise said he didn't expect the bombshell report on the president's tax returns to change any voters' minds. He similarly had little to say about the coming Supreme Court fight, telling Fallon, "Whether it'll affect the election or not, it probably will, you just don't know which way it's going to play."

Read more at The Daily Beast.


The campaign trail is starting to heat up between President Trump and Joe Biden, as the first presidential debate is scheduled to take place in Cleveland on Tuesday -- and just five weeks before Election Day.
HandoutOscar Wilde famously said, "Everything in the world is about sex except sex. Sex is about power." It's a wonderfully worded quote but a bit mistaken about sex, power, and the rest. In Wilde's Victorian England, power was obvious and everywhere; sex was repressed. The world we live in today is far more suffused in sex, but a bit less comfortable with the omnipresence of power (which is why addressing privilege and oppression is commonly met with such reactionary vitriol and/or tear gas).

"But why are you talking about politics, professional dominatrix?" you might ask. Some people want to cordon off the sexual world, and pretend that it doesn't interact with the broader world we all live in, but in my work as a pro-domme I've often gotten to see the intricate ways that peoples' sexual fantasies reflect and respond to the stressors and freedoms they experience in their outside life. When Donald Trump won the 2016 election, I saw a surge in female, racial, and religious minorities who contacted me; people who, because of external events, were required to be unyielding and resolute in their day-to-day struggles, seeking heavy play that helped them break down within the context of a safe and trusting environment. I've seen a similar response during COVID-19, and wanted to deconstruct it a bit.

It may seem counterintuitive to think that when times are tough someone might want to add to that pain by seeking out things like discipline, humiliation, pain, or physical confinement. After all, isn't it tricky enough just to make sure you're wearing pants on your Zoom meeting? And yet many do find the



(Third column, 16th story, link) Related stories:
STATE OF 2020 RACE...
USC DAYBREAK CHART...
Betting odds...

Drudge Report Feed needs your support!   Become a Patron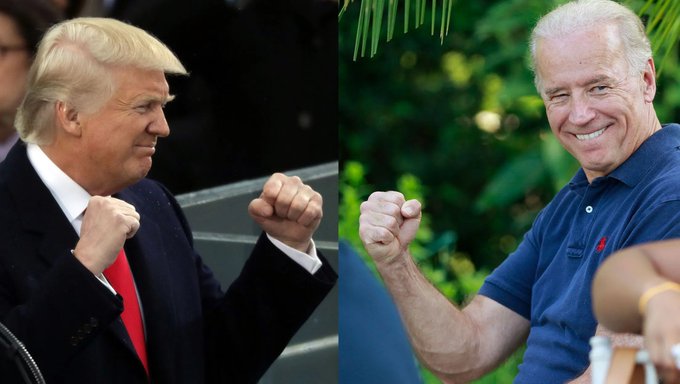 (Main headline, 1st story, link)

Joe Biden has no events scheduled Monday but is dispatching his running mate, Sen. Kamala Harris (D-Calif.), to North Carolina to highlight the battle over President Trump's Supreme Court nominee, Amy Coney Barrett.
With Trump's campaign hoping the first meeting between the two candidates would help him overcome his deficit in both national and key state polls, leaked tax documents have become the latest impediment to the president's ongoing effort to revive his flagging reelection bid.
President Trump had counted on his court nomination over the weekend to shift the election dynamic away from his handling of the coronavirus pandemic. But it has not reset the race in the key battleground state.
Still, a majority of those polled agree that the Senate should hold confirmation hearings for Trump's nominee.



(Third column, 17th story, link) Related stories:
538: Daily presidential tracking polls...
USC DAYBREAK CHART...
Betting odds...





(Top headline, 12th story, link) Related stories:
NYT: 18 Revelations From Trove of Trump Tax Records...
LOST MORE MONEY THAN MADE?
FINANCED EXTRAVAGANT LIFESTYLE WITH USE OF BUSINESS EXPENSES...
'Can you believe how f*cking stupid the IRS is?'
FLASHBACK: Ripped Obama 20.5% Rate...
Said poor should have to pay to 'be part of game'...
WIRE: National Security Threat...

Fox NewsSen. John Kennedy (R-LA) conceded on Sunday that Republicans were being hypocritical on their push to confirm Supreme Court nominee Amy Coney Barrett before the election, insisting that whatever party is in power will "do what they think is right."

With Republicans rushing to get the Supreme Court seat left open by liberal icon Ruth Bader Ginsburg's death filled just weeks ahead of the November election, the GOP has faced backlash and charges of hypocrisy for citing the 2016 election as the reason they held up Merrick Garland's nomination.

Interviewing Kennedy on Fox News Sunday, guest host Brit Hume brought up the Garland situation, noting that Senate Majority leader Mitch McConnell said at the time that the American people should have a say in the court pick since it was during an election year.


ABC NewsSenate Minority Whip Dick Durbin (D-IL) pushed back against former Democratic presidential nominee Hillary Clinton's recommendation to current Democratic hopeful Joe Biden that he not concede the election to President Donald Trump "under any circumstances," saying Clinton was "flat out wrong."

In the wake of President Donald Trump's repeated refusal to commit to a peaceful transfer of power should he lose the upcoming election, Republicans have pointed to Clinton's recent advice to Biden to justify the president's remarks.

In an interview last month with her former communications director Jennifer Palmieri, the ex-secretary of state—who lost the 2016 election to Trump despite winning the popular vote by nearly three million—said the uncertainty of the vote count early on means Biden shouldn't immediately concede if he's behind.

Read more at The Daily Beast.

Got a tip? Send it to The Daily Beast here