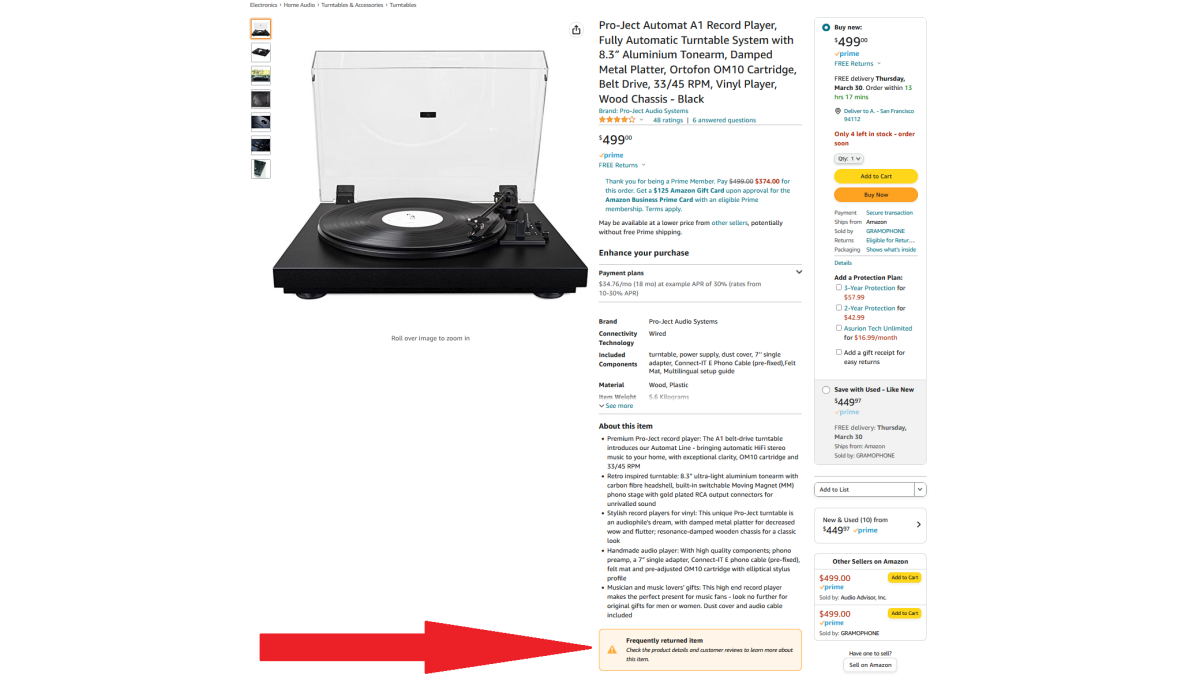 As reported by The Information, small banners have begun to appear on listings where the product gets sent back often. The label notes the product's status as a frequently returned product, along with a prompt to check item details and reviews before purchasing. You can still make returns on these items—the 30-day window still applies to most goods. But this warning system is designed to cut down on the number of times people return something in disappointment.

You can see the label in action on several third-party listings found by The Information—one for the Pro-Ject Automat A1 record player, as well as two dresses. You may need to be signed into an Amazon account to see the warning label.

The new warning label in action.

The administration faces national security concerns over the app's ownership — and a possible backlash over a ban.


As PC Gamer notes, the conversation-style text inputs make ChatGPT and Newegg spit out results that are, quote, "extortionate." A request for a PC that can play The Sims (which can run on most new laptops with integrated graphics) suggested a $1,500 desktop build with an RTX 3070. A request for a PC that could "rival a PS5 for the same price" gave a $1,300 result. Admittedly, that's about what it takes to build a gaming PC that can play at least some new games at 4K, but the chatbot missed a pretty crucial part of the instruction.



In an executive order signed Monday, President Biden barred federal agencies from using commercial spyware that threatens US national security or carries a risk of improper use by foreign governments and individuals. The order applies to all departments, including those involved in law enforcement, defense and intelligence. It also prohibits the use of spyware that in the past was used to disclose non-public information about the US government.

The executive order the Biden administration published on the White House website doesn't include a list of affected spyware vendors. Per TechCrunch, government officials declined to name specific firms when asked by reporters. However, the administration said the order includes US and foreign-made spyware. Judging from the criteria laid out in the order, known government spyware makers like Isreal's NSO Group and Macedonia's Cytrox are likely affected.

As TechCrunch notes, security researchers have long warned of the dangers posed by commercial spyware. Such programs frequently target previously undisclosed vulnerabilities that make entire software ecosystems unsafe. In the case of NSO Group's infamous Pegasus spyware, the firm exploited a CoreGraphics vulnerability in iOS that allowed the program to infect an iPhone without the victim needing to