Here's how Limp Bizkit conquered Lollapalooza 2021 -- and the Internet -- on Saturday.

RELATED ARTICLES
In 2012, Bring It On: The Musical opens on Broadway.
In her book, "All the Frequent Troubles of Our Days," Rebecca Donner examines the life of Mildred Harnack, part of the anti-Nazi resistance in Germany.
Can farmers make money without wrecking the land? That's the complex question James Rebanks tries to answer in his new book, "Pastoral Song."
Around 5 p.m. on day three of Lollapalooza, fans were alerted to a special last-minute addition to the schedule: an "intimate" set from chart-topper Machine Gun Kelly. 
Anthony Barajas, who was popular on TikTok, and Rylee Goodrich were each shot in the head at a theater in Corona, Calif., in what the district attorney said was an unprovoked attack.
After two virtual concerts, Ricardo Montaner returns to touring with his 2022 Montaner tour across the U.S., Billboard can exclusively announce.
Young pop stars Billie Eilish and Olivia Rodrigo shared a wholesome moment in celebration of Eilish's new album.
Eilish tells Amfo of her frustration with internet criticism in a new documentary to be broadcast on Saturday.
Accusations of sexual misconduct from more than 24 of Wu's alleged victims have sparked a major Me Too moment in the Chinese entertainment industry.
The Chinese-Canadian star denies allegations made online by several women in China.
From career milestones and new music releases to major announcements and more, Billboard editors highlight the latest news buzz in Latin music every week.
Kris Wu has been detained by Beijing police on suspicion of rape, following an accusation he lured young women into sexual relationships.
The pop star's sophomore album sees her expanding her musical palette, mining personal trauma and exploring industry toxicity
From Daddy Yankee, Jhay Cortez and Myke Towers' "Subele el Volumen" to Enrique Iglesias and Farruko's "Me Pase," vote for your favorite Latin collaboration of July 2021.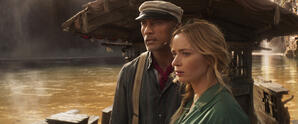 Are you ready for a rip-roaring adventure? Disney's Jungle Cruise is in theaters now, and you can grab your tickets right here at Fandango. Dwayne Johnson and Emily Blunt star as a boat captain and a doctor, respectively, who set off together in search of a valuable plant that could transform medicine and save many lives. Their delightfully lighthearted river adventure soon becomes fraught with danger as they encounter wildly perilous opponents. The film draws inspiration from...

Read More

Read Comments