In his re-election kickoff rally, the reality-show president tries a different (but similar) genre: the TV reboot.

RELATED ARTICLES
Taylor Swift took to Instagram on Tuesday (June 18) to share some new behind the scenes clips of the "You Need to Calm Down"...
The 2019 MTV Movie & TV Awards telecast on Monday night (June 17) gathered its smallest audience in at least four years, falling sharply from the...
CNN cut away from the Trump rally in which he announced his bid for re-election after the crowd joined him in bashing the media, specifically CNN.


The dreams and desires of everyday Londoners are set in song as a £5 note makes its way through the city.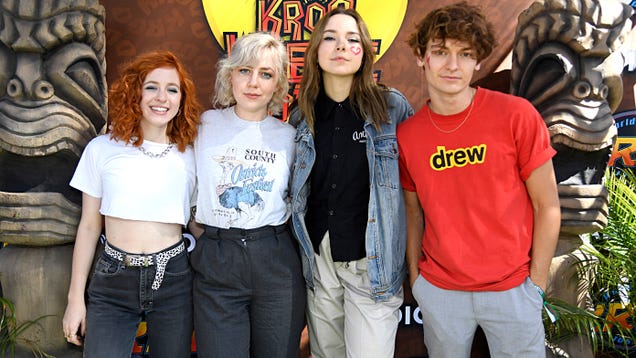 There is never really a bad time of the year for a healthy dose of power-pop, but summers were seemingly made for relentless guitar riffs, upbeat tempos, and confident declarations of youthful love that may or may not last. Basically, now is the perfect time for the L.A.-based quartet The Regrettes to announce their…

Read more...


Lin-Manuel Miranda came to The Tonight Show to play on Tuesday night (June 18). The Hamilton creator was happy to throw down in a game of "Wheel...
Yesterday may have been the film title, but Yellow Submarine was perhaps a better Beatles analogy on Tuesday night (June 18) in London...
The improvised hip-hop show will play the Booth Theatre.
The Sunday in the Park with George star stopped by The Late Late Show in London to duet with James Corden.
Abdullah Patel's controversial tweets have led to him being suspended by his employer and his mosque.
The music superstar and the Broadway vet met after a Lion King-themed event in Los Angeles.
It had been a hard journey for the struggling songwriter and beatmaker, who'd "thrown his life away" at age 15 after a back injury derailed his Olympic future.


Nearly a year and a half after Frances McDormand made the term famous, few Hollywood productions are using this contractual tool.
When Ford claimed this would be the most powerful Mustang ever, it wasn't kidding.


Harjo is known for her forceful, intimate style that draws upon the natural and spiritual world

RELATED ARTICLES
Taylor Swift dropped her cameo-heavy "You Need to Calm Down" music video on Monday (June 17), complete with Tay floating nonchalantly in a...

RELATED ARTICLES
President Trump officially "kicked off" his 2020 re-election campaign in Orlando, Florida on Tuesday night by telling a crowd of riled up supporters that Democrats are hell-bent on "destroying" them. "The Democrats don't care about Russia," the president growled. "They only care about their own political power. They went after my family, my business, my finances, my employees, almost everyone that I have ever known or worked with, but they are really going after you!"Asserting that the Russia investigation was really about erasing the votes of his supporters, Trump claimed it was all an attempt to erase the "legacy of the greatest campaign and the greatest election probably in the history of our country.""And they wanted to deny you the future that you demanded and the future that America deserves and that now America is getting," he added.After soaking in some more cheers from the audience, the president said his "radical Democrat opponents are driven by hatred, prejudice and rage" before turning up the inflammatory rhetoric."They want to destroy you and they want to destroy our country as we know it," Trump snarled. "Not acceptable. It's not going to happen!"His supporters, meanwhile, lapped it up, exploding in applause.Read more at The Daily Beast.Get our top stories in your inbox every day. Sign up now!Daily Beast Membership: Beast Inside goes deeper on the stories that matter to you. Learn more.


This week, 'Monday Night RAW' continued its reign across the…

RELATED ARTICLES
The troupe of mime-acrobats, presenting two programs after a five-year absence, feels like what it is: a late-generation copy.

RELATED ARTICLES
Final broadcast primetime live same-day ratings for Monday, June…
Taylor Swift continues to celebrate Pride Month and speak out against homophobia in her latest music video — featuring plenty of rainbow looks...

RELATED ARTICLES
Johnny Bananas Crashes Acceptance Speech at MTV Movie & TV Awards



RELATED ARTICLES
The It List is Yahoo's weekly look at the best in pop culture, including movies, music, TV, streaming, games, books, podcasts and more. Here are our picks for June 17-23, including the best deals we could find for each.


Danny Boyle's film cancels the Fab Four, but makes an actor of Ed Sheeran and a UK-Asian rock star.

RELATED ARTICLES
The short film, directed by Zack Morrison, follows a millennial college graduate undergoing a quarter life crisis.
Donald Trump says acting Secretary of Defence Patrick Shanahan will not be moving forward with his confirmation process, just hours after reports of Shanahan's family's history of domestic violence surfaced."Acting Secretary of Defence Patrick Shanahan, who has done a wonderful job, has decided not to go forward with his confirmation process so that he can devote more time to his family," the president tweeted.In a statement following the president's tweet, Shanahan confirmed that he asked to be withdrawn from the process.The Washington Post and USA Today both published extensive accounts of violent incidents involving Mr Shanahan's ex-wife, Kimberley, and older son, William, who were living in Sarasota, Florida in 2011, while Mr Shanahan lived in Seattle, Washington.Shanahan has denied reports that he was violent with his wife, saying: "I never laid a hand on my then-wife and co-operated fully in a thorough law enforcement investigation that resulted in her being charged with assault against me—charges which I had dropped in the interest of my family."Reports of a violent incident in which Shanahan's son William attacked his wife, and William's mother, Kimberley with a baseball bat were part of the divorce proceedings between Patrick and Kimberley."Our story is not dissimilar to those of the many families facing the difficult challenges that come when a loved one struggles with substance abuse and other emotional issues as is the case
"The Capital," by the Austrian novelist Robert Menasse, depicts an E.U. bureaucracy rived by conflict and infighting and ripe for satire.
Stewart went on The Late Show to support the people he calls "the first heroes."



RELATED ARTICLES
Luke Combs' new five-track EP The Prequel roars in atop Billboard's Top Country Albums chart (dated June 22), earning 48,000 equivalent album...
An American teenager has been charged with conspiring to murder her "best friend" after a man she met online offered her $9 million to commit the crime. According to investigators, Denali Brehmer, an 18-year-old from Alaska, was recruited to kill her friend by a man a few years her elder, 21-year-old Darin Schilmiller of Indiana. Court documents say that during the course of their online relationship, they discussed a plan to rape and murder someone in Alaska.


Huawei is resorting to drastic measures to counteract the effects of its inclusion on a US blacklist, which has resulted in several key US companies cutting ties with the Chinese electronics giant.The biggest blows to result from the Huawei ban, however, arguably relate to the imminent loss of access to Google's Android mobile OS as well as Google's proprietary app marketplace. Meanwhile, Facebook also reportedly is no longer allowing Huawei to pre-install its apps on Huawei phones.So, let's review. Huawei, which is currently the second largest smartphone manufacturer in the world, could soon be cut off from accessing official Google apps like YouTube and Gmail in future handset models. Losing access to Android would mean no future OS updates from Google, along with the security measures they bring. At the same time, future Huawei devices would also not be able to download apps from the biggest social networking company in the world, including Facebook, Instagram, and WhatsApp.The latter, of course, isn't a big deal in China, but remember -- around half of Huawei's sales are actually outside of China.None of the above would affect current Huawei handset models, at least right away. But when you couple all of this with news in recent days that Huawei is internally forecasting a possible $30 billion revenue miss for 2019, as well as a 40% drop in its smartphone business, the refund guarantee we mentioned right at the top starts to make sense.Huawei customers outside China are no doubt starting to get m
On the 100th anniversary of the influential film critic's birth, a cinephile tries to pinpoint the moment he stopped resisting her work.
Guatemala has not yet committed to becoming a "safe third country" for U.S.-bound migrants seeking asylum, but is analyzing with the United States how to contain flows of people from Central America, the Interior Minister said on Tuesday. U.S. President Donald Trump said in a Twitter post on Monday that Guatemala "is getting ready to sign a Safe-Third Agreement," suggesting Guatemala could receive asylum seekers https://www.reuters.com/article/us-usa-immigration-trump/trump-says-u-s-agency-will-begin-removing-millions-of-illegal-immigrants-idUSKCN1TJ04D from neighboring countries. Trump added on Tuesday that Guatemala was "different" than in past administrations https://www.reuters.com/article/us-usa-immigration-trump/trump-says-immigration-roundup-will-start-next-week-idUSKCN1TJ2RZ, without providing details.


For any president, 100-day milestones are important. An administration with fresh impetus can achieve more during the first three months in the White House than at any other time.But Donald Trump has hit an altogether more unwanted 100 mark, one that has vast implications for the press, the public and his own officials. We are now into the 100th day since the last formal daily briefing by the White House press secretary.On-camera briefings began in 1995 and Trump's administration already held the record for most days without one - set at 42, before the last briefing on 11 March.That one ended with press secretary Sarah Sanders taking questions for a mere 14 minutes, something that Joe Lockhart, Bill Clinton's White House press secretary from 1998 to 2000, says shows the Trump administration's "abdication" of its duty to the country."The press secretary is the one person in the building that on a daily basis knows they work for the public," Lockhart says. "[You] go out there every day and answer hard questions or rude questions because the public have a right to know and it is a big part of how our democratic system is supposed to work."This White House has just abdicated that responsibility".With Sarah Sanders having resigned her position, what now for a job that has become much-maligned? Even if the position has been integral to the White House since it was created in 1929, Lockhart worries that Mr Trump has set a precedent that others could follow.
Boeing is selling its 737 Max planes again. The company announced at the Paris Air Show on Tuesday that International Airlines Group, the parent company of British Airways and other carriers, signed a letter of intent for 200 Boeing 737 aircraft. Boeing said it's the first sale of the jetliner since the crash of an Ethiopian Airlines 737 Max in March.


What if the Beatles didn't exist? We might have "Hey Dude" instead of "Hey Jude"
"Live PD" not only led the Saturday cable ratings yet…
U.S. President Donald Trump would consider using military force to prevent Iran from gaining a nuclear weapon but left open the question if it involved protecting oil supplies, he told Time magazine in an interview published on Tuesday. Striking a different tone than some Republican lawmakers who have urged a military response, Trump told Time the impact of the recent attacks on Norwegian and Japanese oil tankers in the Gulf of Oman had been "very minor" so far. The United States has blamed Iran for the tanker attacks, citing as evidence a series of images showing an Iran Revolutionary Guard Corps boat removing an unexploded limpet mine from the hull of the Japanese oil tanker attacked on June 13.


Reed King's weird and problematic "FKA USA" imagines a futuristic U.S. that has splintered into territories ruled by corporations and bandits.        
It was team U.S.A. versus Team U.K. on The Late Late Show Monday night (June 17) , where host James Corden challenged stars Melissa...
Dwayne Johnson discusses how he stayed authentic to his black and Samoan heritage as he rose to stardom.


Yesterday's star talks of working with Ed Sheeran and Danny Boyle.


Ever wonder how some of your favorite stars go to the movies? What about the stars of The Secret Life of Pets 2? Fandango is giving you early access to watch The Secret Life of Pets 2 on May 25, two weeks before the family comedy opens wide in theaters on June 7. To see where, exactly, the film will be screening early near you -- and to get your tickets now -- check out our Early Access page by clicking here. This new chapter explores the emotional lives of our...

Read More

Read Comments



If you did time in middle school in an era that wasn't the late '90s or early 2000s, I have no idea how PEN15 will come off to you. All I can say is that as someone who's almost the exact same age as creator-stars Maya Erskine and Anna Konkle, ... More »