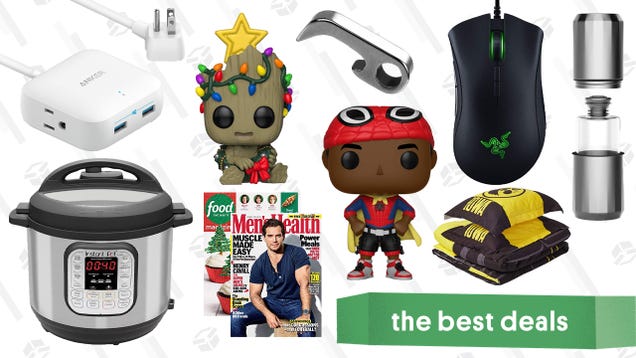 A huge toy Gold Box, The Claw multi-tool, magazine subscriptions, and a $50 Instant Pot lead of Saturday's best deals from around the web.


Richard Nixon was the first president in more than a century to face impeachment. Donald Trump is the third. A look at why impeachment is more common.


That's what one fictional article that went viral last week suggests. Could it come true?


Catch Noah Baumbach's story of a marriage's collapse, and a televised performance of the colorful Broadway musical.
Roughly 1,000 Belarusians joined an unauthorised demonstration on Saturday against the prospect of a closer union with Russia. Long-time ruler Alexander Lukashenko was meeting with his Russian counterpart Vladimir Putin in Russia on Saturday to discuss "key issues in our bilateral relations, including the prospects for deepening integration", according to the Kremlin. Police quickly intervened to oversee the demonstration but made no arrests.


Explaining that the president is "very concerned" about the Ford, Modly said that he is making fixing this flattop a top priority for the Navy.


Iraq's anti-regime protesters gathered in the capital and south on Saturday, grieving but defiant after 17 were killed in an attack demonstrators described as "slaughter". The dramatic developments have threatened to derail the anti-government rallies rocking Iraq since October, the largest and deadliest grassroots movement in decades. Late Friday, at least 17 people were killed and dozens wounded when unidentified gunmen attacked a large building where protesters had camped out for weeks, medics said.


Johnson wrote a column for the Spectator magazine in 1995 calling for free healthcare to be restricted to the "genuinely sick and for the elderly."


The Christmas Chronicles 2 with Kurt Russell, Goldie Hawn set for 2020


The documents were cited by the UK opposition leader Jeremy Corbyn to attack Prime Minister Boris Johnson over a planned US trade deal.


The costume designers Sandy Powell and Christopher Peterson explain why they turned to Pucci-style looks for the women and how they waded through a sea of ties for the men.

RELATED ARTICLES
    Remember when Halsey and Camila Cabello helped Taylor Swift "Shake It Off" during her 2019 AMAs medley of hits ...

RELATED ARTICLES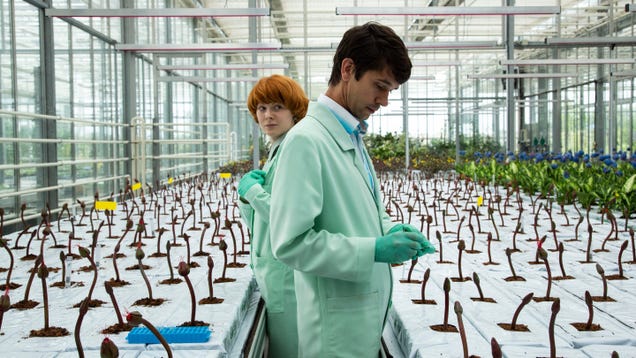 Sixty-four years later, the premise of Jack Finney's sci-fi allegory The Body Snatchers still packs a nightmarish wallop. It's why they keep making movies, officially and unofficially, from its blueprint: No matter the era or the symbolic function, the pod people remain a potent expression of universal anxiety—that…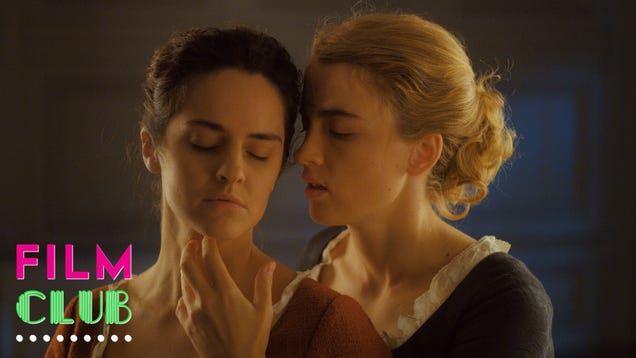 For today's second Film Club installment, our critics discuss our favorite film out of Cannes, the rapturous romance from Céline Sciamma, Portrait Of A Lady On Fire. Join A.A. Dowd and Katie Rife as they discuss what makes Portrait the year's most seductive and intoxicating love story.


The husband-and-wife duo on adapting James Frey's controversial addiction book for the big screen

RELATED ARTICLES
Though $800 million seems like an enormous settlement, some 4,500 people joined the lawsuit against MGM Resorts. Some will need more than others.


Christmas feels like it came just a few weeks early, with Friday (Dec. 6) giving us a slew of amazing new music. Camila Cabello unveiled her highly-...

RELATED ARTICLES
The video for "Christmas Tree Farm" may hide a secret

RELATED ARTICLES
The cable ratings of the Thursday after Thanksgiving reflected a…
The New York Times reported in December 2017 that Trump "has an odd affinity for showing off bathrooms, including one he renovated near the Oval Office."


Thee self-proclaimed serial killer confessed to committing as many as 600 murders. Most of those claims turned out to be lies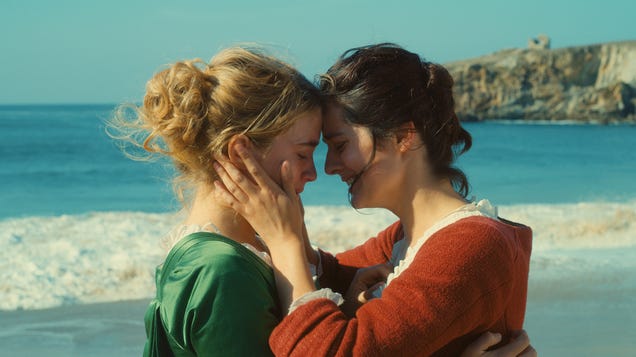 Love at first sight is a fairy-tale fantasy that grows less beautiful the more you think about it. Can you really love someone if you don't know them? And how can you know them at a single glance? Céline Sciamma's Portrait Of A Lady On Fire, which has to be the most rapturously romantic movie of the year (if not of…


After taking the day off on Thursday, Meghan McCain returned to The View on Friday and immediately set about doing Meghan McCain things.During a discussion on House Speaker Nancy Pelosi's altercation with a Sinclair reporter after he asked her whether she "hated" President Donald Trump, McCain sulked and pouted after frequent sparring partner Joy Behar used an audience-pleasing one-liner against McCain's argument Democrats are too focused on making a meme out of Pelosi's moment.Earlier in the conversation, conservative co-host Abby Huntsman claimed that reporter James Rosen's question to the House speaker following her Thursday impeachment press conference was both "lazy" and "hostile.""He was going probably for the clickbait and the headlines," she said, adding that he should have given more context to the question. "What I worry so much is the humanity and civility in this country, and I put a lot of the blame on the president because it's how we talk to each other."After co-host Sunny Hostin felt Pelosi was "triggered" by the notion that Democrats only want to impeach Trump because they hate him and that it has nothing to do with the Constitution, McCain jumped in to note that Pelosi's campaign is now raising money off the incident."I think that the problem is when she did answer it masterfully, the problem is now she's selling t-shirts that say DontMessWithNancy," McCain stated, prompting Hostin to express shock."Yes, she is," McCain continued. "For $39, you can
Hollywood producer Harvey Weinstein has at times failed to wear a required electronic tracking device, New York prosecutors said Friday, asking a judge to increase his bail to $5 million, from $1 million, as he awaits trial on sexual assault charges.
Broadcast primetime live same-day ratings for Thursday, December 5,…
David Fincher's eerie drama is on FXM. And the third part of a Christmastime trilogy premieres on Netflix.
A look back at what has worked, and what has not, in the continuation of musical stories.
Alexus Lorraine Taylor, 17, and Laurie Ann Taylor, 43, were arrested Thursday on charges including manslaughter and first degree child abuse resulting in the July 27 death of Niyear Taylor, news outlets report. Anne Arundel County police called to their home in Curtis Bay were told the baby was unreponsive and had been wheezing before he fell asleep the night before.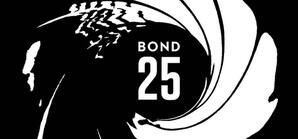 MUST-WATCH TRAILERS James Bond returns in No Time to Die: We got our first look at the next James Bond movie, No Time to Die, which offers up double the 00-agents with its introduction of Lashana Lynch as a new colleague at MI6. There's also lots of action in the first trailer for the 25th installment of the franchise. Watch below and then catch the movie in theaters on April 8, 2020.   Black Widow teases a bright future for the MCU: The Marvel Cinematic Universe as...

Read More

Read Comments


Episode 5 is filled with callbacks and sites from the very first "Star Wars."


Jonty Bravery, who faced one count of attempted murder, intended to kill the boy so he could be on the news, the authorities said.
Harry Styles continues his retro mood, Tame Impala serves up introspective psychedelia, and more from
A five-part crossover story, premiering Sunday on CW, will include some unexpected characters.
Trump received a call from King Salman of Saudi Arabia to express his condolences over the attack that left four dead. The suspect was a Saudi national.


Donald Trump has praised construction of newly constructed wall along the US-Mexico border, which the president has insisted "can't be climbed".But a viral video has proved that the wall can easily be scaled with a ladder.


The United States on Friday imposed sanctions on three Iranian-backed Iraqi militia leaders over a deadly crackdown on protests in the country, as it warned Tehran to stay out of its neighbor's affairs. The move comes as President Donald Trump's administration, which considers Iran an arch-enemy, voices alarm at rising attacks on US forces' bases in Iraq blamed on Shiite militias backed by Tehran's clerical regime.



RELATED ARTICLES
This holiday film on Netflix, the third in a series, is both flimsy and flat, but if royal romance is what you crave, you've found it.
Featuring Garry Shandling, Ali Wong, Jenny Slate, and a thorough history of Friends.
Biden said the media falsely reported that the Democratic Party "moved extremely to the left" following Hillary Clinton's 2016 loss.


Lesser-noticed novels by Yoko Ogawa, Helen Phillips, and others were among the year's greatest.
This thriller from Netflix follows four teenage misfits in the Philippines who plot to kidnap the school bully for ransom.
Sam Taylor-Johnson's artwork of David Beckham sleeping is on show in east London until March 2020.
Harry Styles gives us some funky styles on "Adore You." The new track has a groovy '80s vibe and has been trending high on Twitter...
As a constant advocate for mental health awareness, Jessie Paege knows what it feels like to be shamed by your own mind. So, she decided to make it...
We've combined Insider polling and results of Morning Consult's daily survey to create a weekly power ranking of the potential 2020 candidates.


The Times's staff critics give their choices of the best fiction and nonfiction works of the year.
With 2019 on pace as one of the warmest years on record, a major new study reveals how rapidly the Arctic is warming and examines global consequences of continued polar warming. The study reports that the Arctic has warmed by 0.75 degrees C in the last decade alone.
The newest entry in the series is directed by Cary Joji Fukunaga and features Lashana Lynch.

RELATED ARTICLES
Final broadcast primetime live same-day ratings for Thursday, November…
Six years after everything changed for Disney and for families all around the world, the phenomenon of Frozen is back. One of the most anticipated sequels ever, Frozen II finally arrives in theaters this fall. Anna, Elsa, Kristoff, Sven and Olaf are ready to return to the big screen for another feature-length adventure. What's in store for the gang from Arendelle? We only have a short while left to find out. For now, we've got our first look at the Frozen follow-up, as Disney just released the first teaser for the upcoming animated release. There's Elsa attempting to cross the ocean with her ice powers. Kristof and Sven are in a hurry to get somewhere alongside many other reindeer. Anna wielding a sword in the direction of... we aren't sure whom. This sequel is...
Read More


Need a quick recap of the past week in movie news? Here are the highlights:   EXCLUSIVE MOVIE GUIDE The movies to see this holiday season: We highlight 21 big movies worthy of your attention through the end of the year, from holiday family fare to the most notable awards contenders. Check out our slideshow guide to this season's movies, including Mary Poppins Returns, here.   BEHIND-THE-SCENES REPORT The fantasy world of Artemis Fowl: We visited the set of Disney's Artemis Fowl and got the scoop on the movie and its world of fairies and mayhem from director Kenneth Branagh. Read what we learned from behind the scenes here, and check out the movie's new teaser trailer down below.   EXCLUSIVE BUZZ Phil Lord and Chris...
Read More