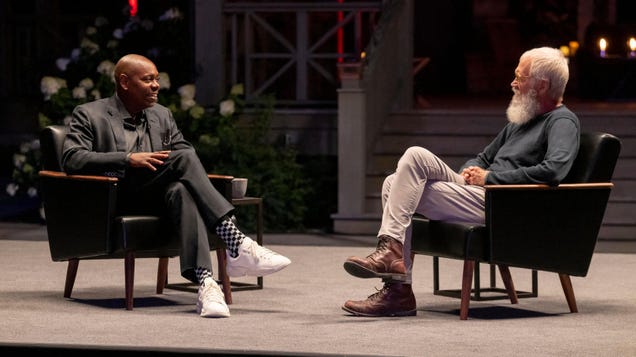 Bearded, semi-retired interview legend David Letterman will return to Netflix next month with a third season of his acclaimed series, My Next Guest Needs No Introduction. After speaking to the storied likes of Barack Obama, Kanye West, Tina Fey, and Ellen DeGeneres in previous episodes, Letterman will train his gaze…

Read more...



RELATED ARTICLES
Baby Zigi has finally arrived! Gigi Hadid and Zayn welcomed their first baby girl together.
The Masked Singer returned for its highly anticipated fourth season on Wednesday night (Sept. 23), featuring a bunch of fun new costumes including Sun, Giraffe, Popcorn, Dragon and the show's first duo, the Snow Owls.

RELATED ARTICLES
The muse of bohemian postwar Paris, she became an internationally known actress and singer.
Widely viewed as the president's top choice for the vacancy, Amy Coney Barrett has previously spoken out against shifting the balance of the nation's highest court


The 2020 Billboard Music Awards nominations are out ahead of the Oct. 14 ceremony, and the newcomers are coming in hot just like their Billboard Hot 100 No. 1 hits. 

RELATED ARTICLES
Her career spanned eight decades and she charmed audiences in France and beyond.
Donald Trump has signed an executive order barring US government agencies and contractors from holding training sessions that teach America is "fundamentally racist or sexist", again forcing the spotlight on cultural clashes ahead of the US election. The executive order's list of issues that cannot be promoted through diversity training include suggesting that someone "bears responsibility for actions committed in the past by other members of the same race or sex". The lengthy order was signed on Tuesday and expands the US president's recent pushback on such training, now including private businesses who take up contracts with the federal government and so receive taxpayer funds. The exact impact the order will have is unclear, with the full degree to which such concepts are being voiced currently in training unknown and much depending on how the orders will be implemented by government agencies. It is the latest attempt by Mr Trump to frame the election in part as a battle between patriotic Republicans and left-wing radical Democrats who he claims are undermining the values the country was founded on. In recent months Mr Trump has hit out at "indoctrination" in America's schools, decried protesters downing statues of Confederate generals and warned in his Republican convention speech that America as it is would change forever if he loses in November. Mr Trump tweeted about the executive order: "A few weeks ago, I banned effo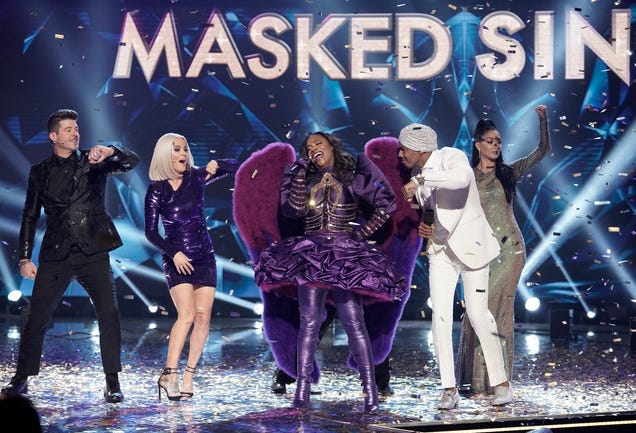 The Masked Singer returns for an all-new season and a brand new lineup of singers. Last season, the Night Angel, who was revealed to be Kandi Burruss, won the Golden Mask. Now, 16 new contestants are competing for the same prize.

Read more...


After running away with the circus, she promoted women's wrestling and fitness before seeing signs of the future in a most unusual spot. (Hint: it's not the palm.)
Hulu released the first full trailer for its Marvel TV drama, "Helstrom," which features what has to be the worst family reunion.The series will debut all episodes on Oct. 16. You can watch the video above."Helstrom" is based on the Marvel comic "Hellstrom," which centered on Damion Helstrom, aka the Son of Satan. In Hulu's version, Daimon and Ana (who goes by Satana in the comic) Helstrom are the son and daughter of a mysterious and powerful serial killer. The siblings have a complicated dynamic as they track down the terrorizing worst of humanity — each with their attitude and skills."Homeland" alum Elizabeth Marvel will star as their mother, Victoria, who has been institutionalized for the last 20 years. The series also stars Ariana Guerra, Robert Wisdom, June Carryl and Alain Uy.Also Read: 'WandaVision': Watch the Trippy First Trailer for Marvel's Disney Series (Video)"Helstrom" was ordered to series last year along with "Ghost Rider," which was set to see Gabriel Luna reprise his role from "Agents of S.H.I.E.L.D." However, the series was shelved following creative differences and a larger corporate shift. In October, Marvel TV was moved under Marvel Studios and Kevin Feige, who was named chief creative officer across all of Marvel. Since then, Jeph Loeb stepped down as head of Marvel TV and all future development was shuttered."Helstrom" is one of the last remaining productions from Loeb's team.Read original story 'Helstrom' Trailer Proves That 'Every Family Has Their Demons' (

RELATED ARTICLES
This week in the life of Seth Rudetsky, Seth shares stories from Stars in the House and highlights from his live concert with Judy Kuhn.
President Donald Trump has praised Kentucky's Republican attorney general for his handling of the investigation into Breonna Taylor's death. Trump read from Attorney General Daniel Cameron's statement Wednesday that "justice is not often easy."


The musical, starring Ansel Elgort, Rachel Zegler, Ariana DeBose, and more, had been scheduled to arrive in theatres December 18.
A favorite of social conservatives, Amy Coney Barrett said in 2016 that there's no rule governing Supreme Court nominations in election years.


Disney also pushed back several other movies, including Black Widow.
Based on the former F.B.I. director's 2018 memoir, the mini-series recounts a history so recent that viewers may experience whiplash. For Comey, watching Daniels in action prompted tears — and nausea.
Whatever happens on Wednesday's finale, Alan has already won at life — even if there was time when he thought he'd never find true happiness.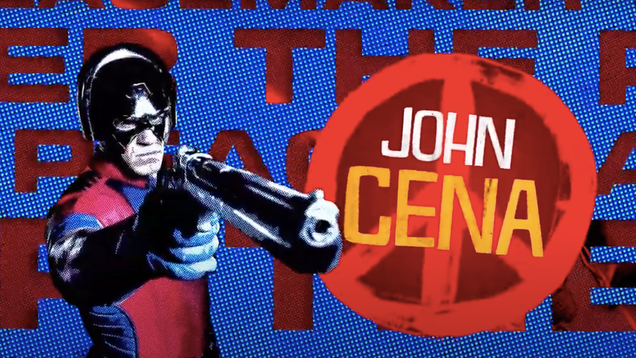 Peacemaker, one of the antiheroes rounding out James Gunn's upcoming The Suicide Squad, is described as "a man who believes in peace at any cost—no matter how many people he has to kill to get it." How did he get that way, you wonder? Well, good news: HBO Max plans to explore that very question in a prequel series…

Read more...



RELATED ARTICLES
Ashley McBryde, Dan Shay, Kelsea Ballerini, Luke Combs, Sam Hunt and Thomas Rhett lead the 2020 CMT Music Awards nominations, which CMT announced on Wednesday (Sept. 23).
Add some Supreme Court podcasts to your feed.
Carrie Underwood, who has won 20 CMT Music Awards, more than any other artist, could receive two more awards this year. Here's the complete list of 2020 CMT Music Awards nominations.
Underneath the towering Gundam, which weighs in at 25 tons and hits the 60-foot mark in height, visitors can enjoy cafes, shops and educational exhibitions.


Looking for a few fresh and different streaming options? We offer some assistance.
Fisher is embroiled in a public dispute with WarnerMedia about 'abusive' treatment on the set of Joss Whedon's Justice League reshoots in 2017.
Russia and China have been busy in a rapidly changing Arctic, and America seems to have barely noticed.


For the second time in as many weeks, Texas' highest criminal court on Wednesday commuted the death sentence of an inmate after agreeing with findings that he was ineligible to be executed because of an intellectual disability. The Texas Court of Criminal Appeals changed the death sentence that Gilmar Guevara had faced to life in prison. Guevara, 50, of El Salvador, was convicted and sentenced to death for the June 2000 fatal shootings of 48-year-old Tae Youk, of South Korea, and 21-year-old Gerardo Yaxon, of Guatemala, during the attempted robbery of a Houston convenience store.


Stevie Wonder feels deeply troubled about the state of the nation, which he addressed in a new YouTube video on Wednesday (Sept. 23) as part of his "The Universe if Watching Us" series.
The 26-year-old spoke out just hours after GOP senators published a controversial report about her father


She may not be in the Arthur Conan Doyle canon, but she is on Netflix.
The CROWN Act banning discrimination based an individual's natural hair passed the U.S. House.


Democratic presidential candidate Joe Biden's son Hunter was involved in questionable business dealings in China and Ukraine, but there was no sign of improper influence by the former vice president, a Senate Republican report said Wednesday.


Soul singer Roy Hammond, best known for writing and producing the Honey Drippers' often-sampled "Impeach The President," has died.
"Its CEO has an unfathomable blind spot," Warren said, adding Wells Fargo is "part of a financial system that scams Black families disproportionately."


The outage Wednesday morning meant drivers couldn't pair their phone with their car using Tesla's mobile app.


If the Breonna Taylor cases goes to a grand jury, at least nine of 12 jurors must vote to return an indictment against any of three officers involved.


The White House is preparing to backstop any lawsuits tied to the election with a 6-3 majority in the country's highest court.


All four episodes of season 3 will premiere on Netflix this Oct. 21.


"Never a fan of John," the president tweeted. "Cindy can have Sleepy Joe!"


Sharon Stone said all other onscreen kisses were just "Meh" compared to this one leading man.


England, 1884 - a world on the brink of change. On the morning of her 16th birthday, Enola Holmes (Millie Bobby Brown) wakes to find that her mother (Helena Bonham Carter) has disappeared, leaving behind an odd assortment of gifts but no apparent clue as to where she's gone or why. After a free-spirited childhood, Enola suddenly finds herself under the care of her brothers Sherlock (Henry Cavill) and Mycroft (Sam Claflin), both set on sending her away to a finishing school for "proper" young ladies. Refusing to follow their wishes, Enola escapes to search for her mother in London. But when her journey finds her entangled in a mystery surrounding a young runaway Lord (Louis Partridge), Enola becomes a super-sleuth in her own right, outwitting her famous brother as she unravels a conspiracy that threatens to set back the course of history. Rated: PG-13Release Date: Sep 23, 2020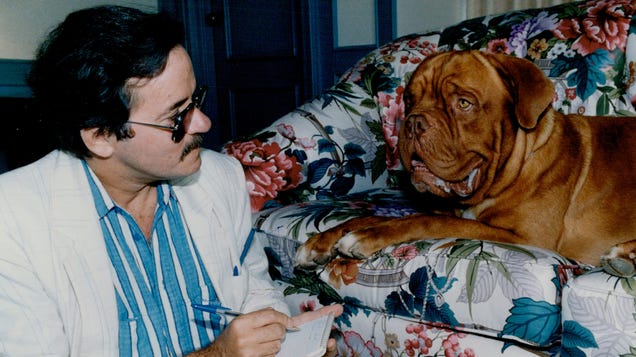 An outrage in Hollywood tonight, as Disney announced more cast members for its upcoming TV reboot of classic dog-cop movie Turner & Hooch, yet refused to give the people what they actually want, i.e., a bunch of pictures of whatever good boy or girl will end up playing giant slobber monster Hooch in the television…

Read more...


The 2020 U.S. Census could fall short of its intended constitutional purpose: counting all the people living within our borders. We may currently have more uncounted households at this stage than in any previous census. These circumstances are made even more critical by the accelerated deadline, which gives experts less time than ever before to check the data.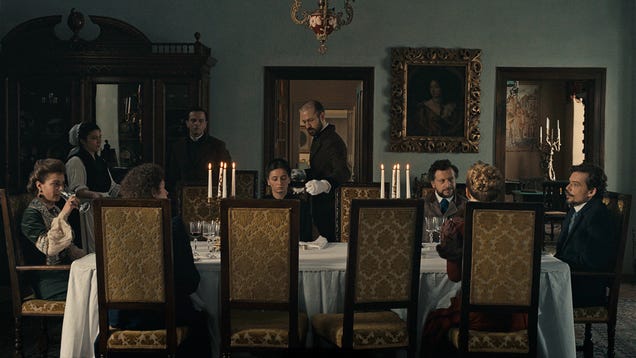 Of all the pleasures that go missing when a film festival goes virtual, true post-movie discussion might be the most, well, missed. Because even if one were to toggle from the end credits running in one tab to a Zoom call waiting in the next, it wouldn't quite replicate the experience of stepping out of a dark…

Read more...


Taylor Swift penned a heartfelt essay about Fleabag star Phoebe Waller-Bridge for Time's 100 Most Influential People of 2020 list Tuesday night (Sept. 22).
Former National Security Adviser John Bolton reportedly tried to do his part during President Trump's impeachment hearings.Bolton famously refused to testify during Trump's impeachment trial regarding the president's alleged quid pro quo with Ukraine, only confirming the deal months after the fact. But Bolton apparently did try to divulge some details from his book regarding Trump's Ukraine dealings — the White House just wouldn't let him, an official overseeing Bolton's book's prepublication review said in a Wednesday court filing.Ellen Knight, a career federal official formerly overseeing the National Security Council's records, was tasked with reviewing Bolton's book and making sure it didn't contain classified information, The New York Times describes via the filing from Knight's lawyer. During that process, Bolton requested a speedier review of a part of his book regarding Trump and Ukraine so he could release it during the impeachment trial. Knight's lawyer said at that point, Bolton's memoir The Room Where it Happened didn't have any classified information and Knight was "prepared to clear the manuscript," but White House aides still denied his request.Through her lawyer, Knight alleged that the "apolitical process" of prepublication review was "commandeered by political appointees for a seemingly political purpose." Bolton's book was the only time Knight had been asked to take several "unusual"
A new documentary explores the fascinating and sometimes troubled life of the famed neurologist.
Millie Bobby Brown stars as a teenager with sleuth skills that rival her famous brother's in this charming feature.
"She was a very eccentric and flamboyant person," writes her son Frank in tribute to the 98-year-old.
The Supreme Court justice, who died on Friday at 87, was a celebrated pop culture figure late in her life, and the subject of two films.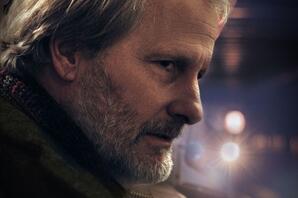 Want to know what's coming soon to digital and what to watch right now on FandangoNOW? Here is your weekly guide to the latest releases:   What are the latest new releases to watch right now? Jeff Daniels wrote and stars in Guest Artist, a new drama about a cynical, Pulitzer Prize-winning playwright and the enthusiastic young novice (played by Thomas Macias) who helps to reignite his passion for the work. The movie debuted digitally this week and is available to rent or...

Read More

Read Comments


Coty Inc is in talks with reality TV star Kim Kardashian West over a potential collaboration for a beauty line, the cosmetics maker disclosed in a regulatory filing on Wednesday.
As Warner Media gets ready to launch its next streaming service, HBO Max, in May, Stankey says he's not concerned about rival NBCUniversal launching a rival service a month earlier.