Twitter said it had seen "no evidence" President Donald Trump's account had been breached. The White House said the story was "absolutely not true."



RELATED ARTICLES
The NBC correspondent is labelled "clear winner" for the way she led the final presidential debate.
"Counting the 2016 Republican primary, we've watched him do that 16 times," Colbert said. "It's excruciating. It's like dental surgery and tonight was like getting our last wisdom tooth taken out."
In 2020, Cohen's approach of teasing out threads of bigotry and hypocrisy in ordinary American citizens seems less cruel than it did in 2006. Which says more about us than it does about him

RELATED ARTICLES
Cuomo believes Trump is bothered by the fact that New York now has one of the lowest COVID-19 infection rates in the country.


These cinematic mainstays continue to terrify.
The musical, based on Mira Nair's 2001 film, was previously slated to play Leeds Playhouse and London's Roundhouse Theatre this year.
Rudy Giuliani is just the latest in a long line of people pranked by Sacha Baron Cohen.
President Xi Jinping has issued a sharp warning to potential "invaders" on the 70th anniversary of the Chinese entry into the Korean War.


Watch Jay Armstrong Johnson transform into Winifred along with her two sisters.
After months of testing its COVID-19 candidate vaccine in adults, Pfizer recently lowered the age of participation to 16.


Alexander Hillel Treisman was found with child porn images, said he would "do a columbine" and mused on killing Biden, court documents say.


Go behind the music as Bruce Springsteen and The E Street Band record together live for the first time since Born In The U.S.A. in this intimate documentary that captures reflections on love, loss, and the way music has shaped Bruce Springsteen's life.Rated: Not RatedRelease Date: Oct 23, 2020

RELATED ARTICLES
President is fighting for his political life in Florida, writes Andrew Buncombe from a debate-watching party in Daytona Beach


Donald Trump and Joe Biden faced off one last time, and the winner was Kristen Welker.
Douglas Stuart, a fashion designer, started writing fiction on the side. Now his first book is up for the Booker Prize and the National Book Award.
This movie about inseparable tweens and the grown-ups they became was dismissed in 1995. Today it's cherished by waves of new fans for the weight it gives their stories.
In "Billion Dollar Loser," Reeves Wiedeman places the once exalted Silicon Valley founder in the context of contemporary capitalism.
The writer-director Justin Simien explains how he created a music video-within-a-film that recalls Janet Jackson-style clips.

RELATED ARTICLES
All the characters, normies, and public figures in the order they appear in Sacha Baron Cohen's Subsequent Moviefilm.
The BBC found racist, homophobic and anti-Semitic content on Spotify, Apple Music, YouTube Music and Deezer.
Robert Zemeckis takes Roald Dahl's dark, macabre novel for a spin, and winds up with a lot of sound, fury, and an over-the-top Anne Hathaway
Russian President Vladimir Putin said Thursday there is no need for a Russia-China military alliance now, but noted it could be forged in the future. Putin's statement signaled deepening ties between Moscow and Beijing amid growing tensions in their relations with the United States. The Russian leader also made a strong call for extending the last remaining arms control pact between Moscow and Washington.


Giuliani turned the offer down out of credibility concerns, a source familiar with the meeting tells Salon


During the final presidential debate on Thursday, Joe responded to questions about his son Hunter Biden.




Using blood of recovered COVID-19 patients - or so-called convalescent plasma - as a potential treatment is of little benefit in helping hospitalised patients fight off the infection, according to results of a clinical trial in India. Published in the BMJ British Medical Journal on Friday, the results show that convalescent plasma, which delivers antibodies from COVID-19 survivors to infected people, failed to reduce death rates or halt progression to severe disease. The findings, from a study of more than 400 hospitalised COVID-19 patients, are a setback for a treatment that U.S. President Donald Trump touted in August as an "historic breakthrough".


Former Democratic presidential candidate Pete Buttigieg was back on Fox News on Thursday night ahead of the final presidential debate, where he faced questions about the recent stories alleging misconduct by Joe Biden's son, Hunter Biden. "It's not even clear what [they're] claiming it adds up to," Buttigieg said of Biden's opponents and the new claims. "They're just kind of saying, 'oh, there are questions.'"Host Bret Baier jumped in to clarify that the unsubstantiated allegation is that Joe Biden was "discussing all of his business deals" with his son."If they want to make this about the business deals of a government official, let's talk about the president of the United States having a secret Chinese bank account," Mayor Pete shot back. "That's not like something somebody said that used to work with somebody related to the president in email, that's a matter of documented fact. And they won't even tell us what bank it's with!"Buttigieg concluded, "I'm pretty sure that bothers Americans a lot more than what [the Trump campaign] is trying to whip up for the last 12 days of this election season." Watch the zinger below. Buttigieg: If they want to make this about the business deals of a government official, let's talk about the President of the United States having a secret Chinese bank account pic.twitter.com/kgQ7uspaOy -- Acyn Torabi (@Acyn) October 22, 2020More stori
A North Carolina man had plans to assassinate Democratic presidential nominee Joe Biden before he was ultimately arrested by the FBI, according to federal court documents. Federal officials detailed the shocking plot in court filings in a case against Alexander Hillel Treisman, who was arrested in May on child pornography charges. The FBI requested that Treisman remain behind bars until his trial, using the alleged assassination plot as justification.


Movies, podcasts, cemetery walks and more: Our guide to enjoying a socially distant fright fest.
U.S. voters have cast more than 47 million votes for the Nov. 3 presidential election, eclipsing total early voting from the 2016 election with 12 days to go, according to data compiled by the U.S. Elections Project. The surge comes after many states have expanded mail-in voting and in-person early voting as a safe way to vote during the coronavirus pandemic and amid voter eagerness to weigh in on the political future of Republican President Donald Trump, who is facing a stiff challenge from Democrat Joe Biden. Biden leads Trump in national opinion polls, although surveys in crucial battleground states indicate a tighter race.


Debbie Allen directs and choreographs the new movie, featuring an original score by Parton herself.
Turkey has been backing forces in Syria, Libya, and Nagorno-Karabakh that have pushed back and beat Russia's advances.


Premiering November 22.

RELATED ARTICLES
Joe Biden appears to have met his son Hunter Biden's business partner in 2017, according to text messages obtained by Fox News.If it took place, the meeting may contradict the former vice president's claim that he "never" spoke with "my son about his overseas business dealings." The text messages came from Tony Bobulinski, the former CEO of SinoHawk Holdings, a joint venture between members of the Biden family and now-defunct Chinese oil company CEFC."Mrng plse let me knw if we will do early dinner w your Uncle & dad and where, also for document translation do you want it simple Chinese or traditional?" Bobulinski wrote in a text to Hunter Biden on May 2, 2017."Not sure on dinner yet and whatever is the most common for a Chinese legal DOC," Hunter replied."Chinese legal docs can be both, i'll make it traditional," Bobulinski answered. Later on, Hunter replied, "Dad not in now until 11- let's me I and Jim meet at 10 at Beverly Hilton where he's staying." "Jim" is James Biden, Hunter's uncle and the former vice president's brother.On the same day, Bobulinski sent a text to James Biden."Great to meet u and spend some time together, please thank Joe for his time, was great to talk thx Tony b," the message states.The Beverly Hilton referred to by Hunter appears to be the Los Angeles branch of the hotel chain. On May 3, one day after the text conversations, Joe Biden participated in a conversation at the Milken Institute's "Global Conference," held in the Beverly Hilt
Former House Oversight Committee chairman and Fox News contributor Trey Gowdy reacts on 'Bill Hemmer Reports'


The Canadian government and the province of Alberta are launching a pilot program to test eligible returning travelers for COVID-19, allowing them to leave quarantine once they receive a negative result, Alberta Premier Jason Kenney said on Thursday. The move could potentially bring relief to the country's struggling airline and tourism industries, which have lobbied the federal government to ease travel restrictions and a strict 14-day quarantine rule. Canadian citizens, permanent residents, foreign nationals allowed entry into Canada and essential workers with no symptoms can volunteer to get tested at the Calgary International Airport and one land border crossing starting Nov. 2.


Sacha Baron Cohen serves up a serious October surprise involving Rudy Giuliani in "Borat 2," while the Trump counselor claims he was just "tucking in my shirt" and not in a compromising position.


Documentary on the making of a new Bruce & the E Street Band album is part love letter, part eulogy and part joyous rock 'n' roll celebration
Reeves Wiedeman writes about the WeWork co-founder Adam Neumann and what the company represents about the last decade.
Rudy Giuliani's daughter wrote a scathing rebuke of her father's boss and his "toxic" administration, and urged Americans to vote for Biden.


Broadway theatres have been shut since March, a fact reflected by this year's pared-down nominations.
Aaron Sorkin discusses a sequence from the film featuring Sacha Baron Cohen.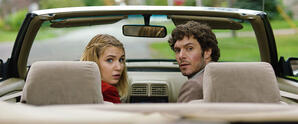 Young people with an especially active imagination often dream of solving a great mystery, yet most soon get caught up in the adventures of an adult life. That is the not the case, however, for Abe Applebaum (Adam Brody), who became known as The Kid Detective for his uncanny ability to solve simple mysteries in his youth. Now in his early 30s, Abe remains obsessed with unlocking puzzles, so when he is offered a chance to investigate his first real, complex 'adult' case, he leaps at the...

Read More

Read Comments


Following two Hellboy movies from Guillermo del Toro, the demonic but heroic comic book character is getting a cinematic reboot with more involvement from creator Mike Mignola this time around. Titled Hellboy, this version will feature a much darker tone and is expected to hit theaters in just a few months.  While we wait for it to hit theaters, here's a recap of everything we know about the movie: Who is taking over the property from del Toro? Neil Marshall, who you may know from the horror movie The Descent and episodes of Game of Thrones, is directing the reboot, which is aiming for an R-rating, from a script by Hellboy creator Mike Mignola along with Andrew Cosby, Christopher Golden and Aron Coleite.  Who is the new Hellboy? David Harbour...
Read More