The National Rifle Association has shut down production at NRA TV.The NRA on Tuesday also severed all business with its estranged advertising firm, Ackerman McQueen, which operates NRA TV, the NRA's live broadcasting media arm, according to interviews and documents reviewed by The New York Times.While NRA TV may continue to air past content, its live broadcasting will end and its on-air personalities - Ackerman employees who included Dana Loesch — will no longer be the public faces of the NRA.It remained unclear whether the NRA might try to hire some of those employees, but there was no indication it was negotiating to do so.The move comes amid a flurry of lawsuits between the NRA and Ackerman, and increasing acrimony that surfaced after two prominent NRA board members first criticised NRA TV in an article in The Times in March. The separation had become inevitable: The two sides said last month that they were ending their three-decade-plus partnership."Many members expressed concern about the messaging on NRA TV becoming too far removed from our core mission: defending the Second Amendment," Wayne LaPierre, the NRA's longtime chief executive, wrote in a message to members that was expected to be sent out by Wednesday."So, after careful consideration, I am announcing that starting today, we are undergoing a significant change in our communications strategy. We are no longer airing 'live TV' programming."In a notice to Ackerman's chief executive, Revan McQueen, sent
Shocking images of a drowned Salvadoran migrant and his two-year-old daughter who died while trying to cross the Rio Grande river from Mexico to the United States have sparked outrage, underscoring the dangers faced by asylum-seekers. Twenty-five-year-old Oscar Martinez Ramirez fled El Salvador with his 21-year-old wife and their daughter and decided to make the risky crossing from Mexico to the US on Sunday afternoon, according to a Mexican court report seen by AFP. A series of haunting photographs showing the young father and child lying face-down in water have stirred anger in El Salvador and Mexico, where the government had faced sharp criticism for its treatment of migrants.


Don Lemon didn't mince words expressing how he feels about Trump's anti-immigrant rhetoric, or his focus on stopping illegal immigration at the southern border and not elsewhere.


America's policy of maximum pressure on Iran continues, with the U.S. Department of the Treasury announcing new sanctions on eight Islamic Revolutionary Guards Corps (IRGC) Commanders. That directive was tweeted during a luncheon event on Iran at the Center for the National Interest, which was moderated by Geoffrey Kemp, the Senior Director of Regional Security Programs at CFTNI who also served in the White House during the first Reagan administration as Special Assistant to the President for National Security Affairs and Senior Director for Near East and South Asian Affairs on the National Security Council Staff. The discussion focused on the ongoing crisis, Iran and America's interests, and whether war could be avoided."[Donald] Trump's approach is self-defeating," declared panelist Kenneth Pollack, Resident Scholar for Middle Eastern Political-Military Affairs at the American Enterprise Institute, and both a former Director for Near East and South Asian Affairs and a former Director for Persian Gulf Affairs at the National Security Council. Pollack explained that the hardliners keep claiming vindication, noting that they had warned that the United States might tear up the Iran deal. Pollack emphasized that Iran's Supreme Leader Ali Khamenei started in the moderate camp but has drifted steadily toward a hardline position.At the time of the Iran Deal in 2015, there was a debate between "the pragmatists led by Rouhani" and "the hardliners led by the IRGC." Those in favor of a deal thought of
Radio play is down slightly, but the King of Pop's Vegas show goes on and Broadway is still in the air despite HBO's "Leaving Neverland."
Fox News anchor Shepard Smith on Tuesday strongly objected to President Donald Trump's assertion that migrant children detained in border detention centers are being treated "very well," pointing out that the conditions these children face would be in violation of the Geneva Convention.After his acting Customs and Border Protection chief John Sanders revealed he resigned from his position amid furor over reports of squalid and filthy conditions at overcrowded detention camps, the president insisted to reporters that he is "very concerned" with the issue. At the same time, he claimed the conditions were "much better than they were under President Obama."Shortly after Trump made his comments, Smith told Fox News viewers that because Trump said "we're treating the children very well," he was going to provide actual reporting on "how those children are being treated."Highlighting the "horrendous conditions" at a detention facility in Clint, Texas, the Fox News anchor noted that one lawyer said children less than 10 years of age were taking care of infants and toddlers."Their clothes covered in snot," Smith added. "No access to toothbrushes or toothpaste or soap. Basic necessities for any of us and all the more so for children."Referencing a segment from his Monday broadcast, Smith went on to highlight just how awful these kids' living conditions were."We reported accurately here yesterday that were these prisoners of war instead of innocent children, those withholding of t
The acting commissioner of the US Customs and Border Protection (CBP) agency, John Sanders, is resigning and will leave his post on July 5, amid an outcry over the treatment of detained migrant children. His departure comes amid mounting public backlash over alarmingly unsanitary conditions at an overcrowded migrant facility in Clint, Texas where the discovery of poor care and lack of access to showers or clean clothing prompted the relocation of 250 detained children. The situation has led immigration activists and Democrats to step up criticism of President Donald Trump's hard-line immigration policies. Mr Sanders, whose resignation was first reported by The New York Times, has led the agency since April, when Mr Trump reshuffled the management of US immigration agencies under the Department of Homeland Security. Before taking over CBP, he was the agency's chief operating officer and had also been the Transportation Security Administration's chief technology officer. A temporary detention facility in Clint, Texas Credit: AFP Mr Trump said he had not ask for Mr Sanders to quit, calling him a good man and saying he did not know why he decided to resign. Dealing with a surge of migrants at the US -Mexico border has been a priority for Mr Trump - but the president has proven unable to push most of his goals through Congress. On Tuesday, Democrats in the House of Representatives said they plan to approve $4.5 billion (£3.5 billion) in emergency funding to address the crisis caused by the migrant surge,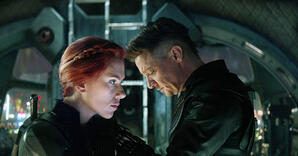 No spoilers here, but Avengers: Endgame is definitely living up to expectations that it would define a generation of movies. Whether that's solely Marvel's 10-year series of superhero adventures or, more broadly, the most recent epoch of ambitious blockbusters, we're happy to raise the question with an eye to the future. Indeed, what can Marvel do to top Avengers: Endgame? In brief, the focus will remain on individual characters in the Marvel Cinematic Universe. We've...

Read More

Read Comments