Just a few short months ago, Apple's next-generation iPhone 11 lineup was shaping up to be one of the most boring iPhone updates in recent history. It couldn't be the most boring iPhone update, since there's no way Apple will be able to top the iPhone XS in that department. Thankfully, a few new reports from well-placed sources over the past few weeks have painted a much more compelling picture of the iPhone 11. While the overall design of Apple's upcoming new iPhone lineup will remain largely unchanged, we've seen more and more news of big upgrades lately. Most recently, the world's top Apple insider reported that Apple's iPhone 11 and iPhone 11 Max will both feature triple-lens rear cameras that pack all sorts of new tricks, while the iPhone 11R (or whatever Apple ends up calling it) will sport an upgraded dual-lens camera. On top of all that, Apple has big things planned for iOS 13 and some of the details surrounding the company's upcoming new mobile software update have already leaked.Long story short, 2019 is looking a bit brighter for Apple fans than it was a couple of months ago. iPhone owners who don't plan to upgrade to a new phone will still have a pretty huge software update to look forward to in September (or in June, if they're brave enough to install the early beta versions following WWDC 2019). Meanwhile, people who do upgrade will apparently get an updated design, plenty more power, and a massive camera upgrade that's much-needed, considering how far Apple has fallen behind the lik
Does having been VP help or hinder a candidate?


The fourth Galaxy S10 phone -- you know, the one with beastly specs that you couldn't order when the Galaxy S10 series went on sale a few weeks ago -- is finally here. Well, it's sort of finally here, because Verizon is only taking Galaxy S10 5G preorders at this time. You'll have to wait a bit longer before you actually receive Samsung's most powerful smartphone ever, but at least you can place your order and have one on launch day. Before you do, make sure that your market has 5G coverage, or will at least get it sometime soon -- Verizon just announced 20 markets where you'll soon find a 5G signal.Verizon said in a press release that the following 20 US cities will get 5G Ultra Wideband service this year, without specifying more precise launch dates: Atlanta, Boston, Charlotte, Cincinnati, Cleveland, Columbus, Dallas, Des Moines, Denver, Detroit, Houston, Indianapolis, Kansas City, Little Rock, Memphis, Phoenix, Providence, San Diego, Salt Lake City and Washington DC.The carrier also announced that Galaxy S10 5G preorders kick off on Thursday, with the phone launching in stores next month on May 16th. Of note, the phone was released in Korea a few weeks ago, where it experienced several network-related connectivity issues during the first days of usage.The 256GB model will retail for $1,299.99, or $54.16 per month for 24 months. The 512GB Galaxy S10 5G costs $100 more, or $4.17 extra each month. Verizon also announced that new and existing customers can shave off $450 off of the price by tradi
It's not surprising that there have been great Serbian contributions to the United States. But to whom is this documentary being addressed?
It wasn't until her latest book, "In My Mind's Eye," was serialized on BBC that many of her neighbors realized there was a celebrity in their midst.
Just a few hours before Jussie Smollett's final Empire episode of the season airs on Fox, his co-stars have penned a letter of support, asking the network to keep Smollett on the show for a potential sixth season. Terrence Howard (Lucious), Taraji P. Henson (Cookie), Bryshere Y. Gray (Hakeem), Trai Byers (Andre), Gabourey Sidibe (Becky) […]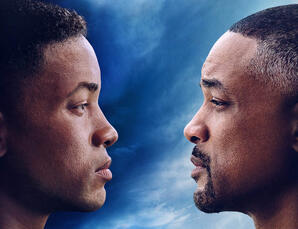 Do you miss the days of young Will Smith, when he was the Fresh Prince of Bel Air and making his mark on the big screen fighting aliens? Or do you prefer the current older version of the iconic movie star, teaming up with fellow baddies for the DCEU and partnering with Orcs on Netflix? What if we told you that you're about to get both at the same time? The upcoming sci-fi action movie Gemini Man will pit Smith against Smith, old versus young, thanks to the magic of today's best...

Read More

Read Comments


Malloy and Chavkin return to the Massachusetts venue after presenting the pre-Broadway engagement of Natasha, Pierre & The Great Comet of 1812 there.
The streets of Sri Lanka's Katuwapitiya should be full of the sound of children's games. "These streets are usually full of children playing," said Suraj Fernando, whose own 12-year-old grandson Enosh was among those killed. The community is in the town of Negombo, where a suicide bomber targeted Easter services at the St Sebastian's church, one of three churches and three hotels hit on Sunday.


Disney's live-action adaptations of their animated classics are serious business. Even this year's Christopher Robin quietly grossed almost $200 million worldwide. There are many more to come, including four features arriving in 2019 alone: Dumbo, Aladdin, The Lion King and Lady and the Tramp, the last of which hits the new streaming service Disney later in the year.  Aladdin is sure to be huge, as the 1992 animated version is considered a favorite among all Disney's classics, not just those from the modern era. And if we weren't sure of this beforehand, we definitely guarantee massive success now that the studio has unveiled another widely talked-about teaser for the movie, this one featuring a blue-skinned Will Smith as the iconic Genie. Watch it down...
Read More