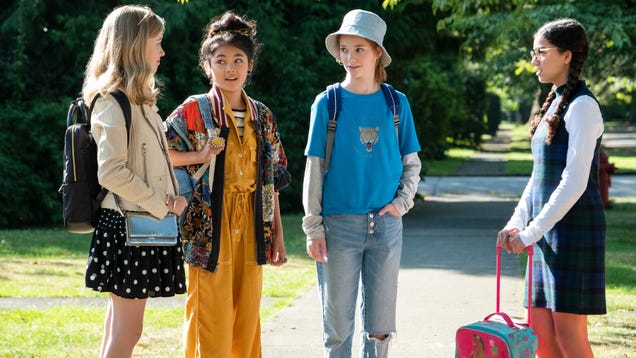 Per Variety, Netflix has renewed The Baby-Sitters Club for a second season. The news arrives to a collective sigh of relief from longtime fans of the Scholastic series and anyone else who is desperately grasping for shreds of good news to get them through the next week. It's great to see something so pure survived the…

Read more...


"The Rachael Ray Show" long had a reputation as a model for how to treat a crew. Veterans of the syndicated daytime talker praise the workplace culture that endured over its first 14 seasons. Even as signs of belt tightening began to creep in a few years ago, those on set appreciated the show's inclusiveness, […]


"I balked at first," the shock-rocker says of a 1978 invitation to guest-star on 'The Muppet Show.' "I went, 'Oh man, I've been spending all this time building this villain image. Is this just going to water it down?'"


If social-media influencer and entrepreneur Kim Kardashian thought her 67.1 million followers would be happy that she got to celebrate her 40th birthday with close friends on a private island during the worst of the pandemic, she was dead wrong. 40 and feeling so humbled and blessed. There is not a single day that I take for granted, especially during these times when we are all reminded of the things that truly matter. pic.twitter.com/p98SN0RDZD — Kim Kardashian West (@KimKardashian) October 27, 2020The Keeping Up With the Kardashians star tweeted a string of glitzy photos of her and her glam guests Tuesday after assuring her followers that—despite the worst COVID-19 spike in cases yet in the pandemic—she was being careful. "After 2 weeks of multiple health screens and asking everyone to quarantine, I surprised my closest inner circle with a trip to a private island where we could pretend things were normal just for a brief moment in time," she wrote, following up with what amounted to a privilege disclaimer. "We danced, rode bikes, swam near whales, kayaked, watched a movie on the beach and so much more," she tweeted with photos of her birthday cake. "I realize that for most people, this is something that is so far out of reach right now, so in moments like these, I am humbly reminded of how privileged my life is." Are you that insensitive you don't realise this is not what the majority of people during the wor
Miles Taylor, the former chief of staff at the Department of Homeland Security, revealed himself Wednesday as the author of an anonymous 2018 New York Times op-ed that depicted President Trump as a danger to the nation.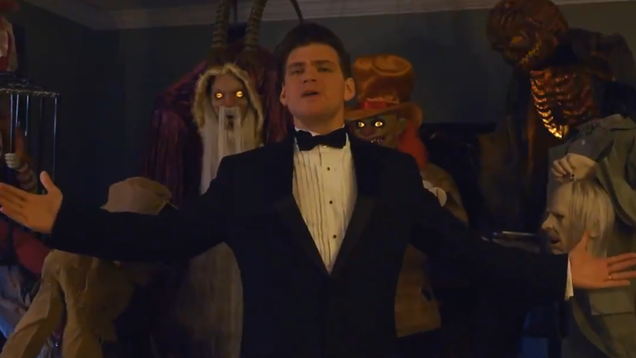 Though the horrifying aspects of Halloween have defined the entire year, the fun part of Halloween kicked off in late September, with the release of Nick Lutsko's Spirit Halloween theme song. In the time since its release, Lutsko has been recognized by the company and rewarded for his efforts with money and, most…

Read more...


Fall Out Boy have endorsed Democrat Joe Biden for president, calling Tuesday's election the "most important" of our time.
Fox News has been planning its election night coverage for weeks, prepping staff and on-air talent for the biggest news night of the year. But now Fox faces uncertainty after the network's president and many of its key on-air stars may have been exposed to COVID-19."Everyone is in a panic about election night," said one current Fox News staffer.On Sunday, The New York Times reported that top Fox News executives and talent will quarantine and get tested after flying on a network-chartered flight from Nashville to New York—following Thursday night's presidential debate—with a staffer who later tested positive for the coronavirus. Passengers included network president Jay Wallace and on-air political hosts and analysts like Bret Baier, Martha MacCallum, Dana Perino, and Juan Williams. (A Fox News spokesperson would not confirm the Times story or the exposure, citing employee confidentiality.)All four of those stars were expected to play key in-studio roles for Fox's election-night coverage. But now it's unclear how the network plans to proceed with its top talent potentially unable to gather in the same room."I believe it will put election night-plans into chaos," another current Fox staffer told The Daily Beast under condition of anonymity for fear of retaliation. "It will be like starting from scratch... It's not good for anyone." The employee added: "It's insane that there's a possibility the anchors will have to host the biggest night of 2020 from their homes.""We have multiple contingency plans in place and always hav
In "A Lover's Discourse," by Xiaolu Guo, and "Just Like You," by Nick Hornby, characters couple up as Britain makes a break.