The Apple Watch Series 7 is available now. Here's what you need to know about trading in your old Apple Watch.

RELATED ARTICLES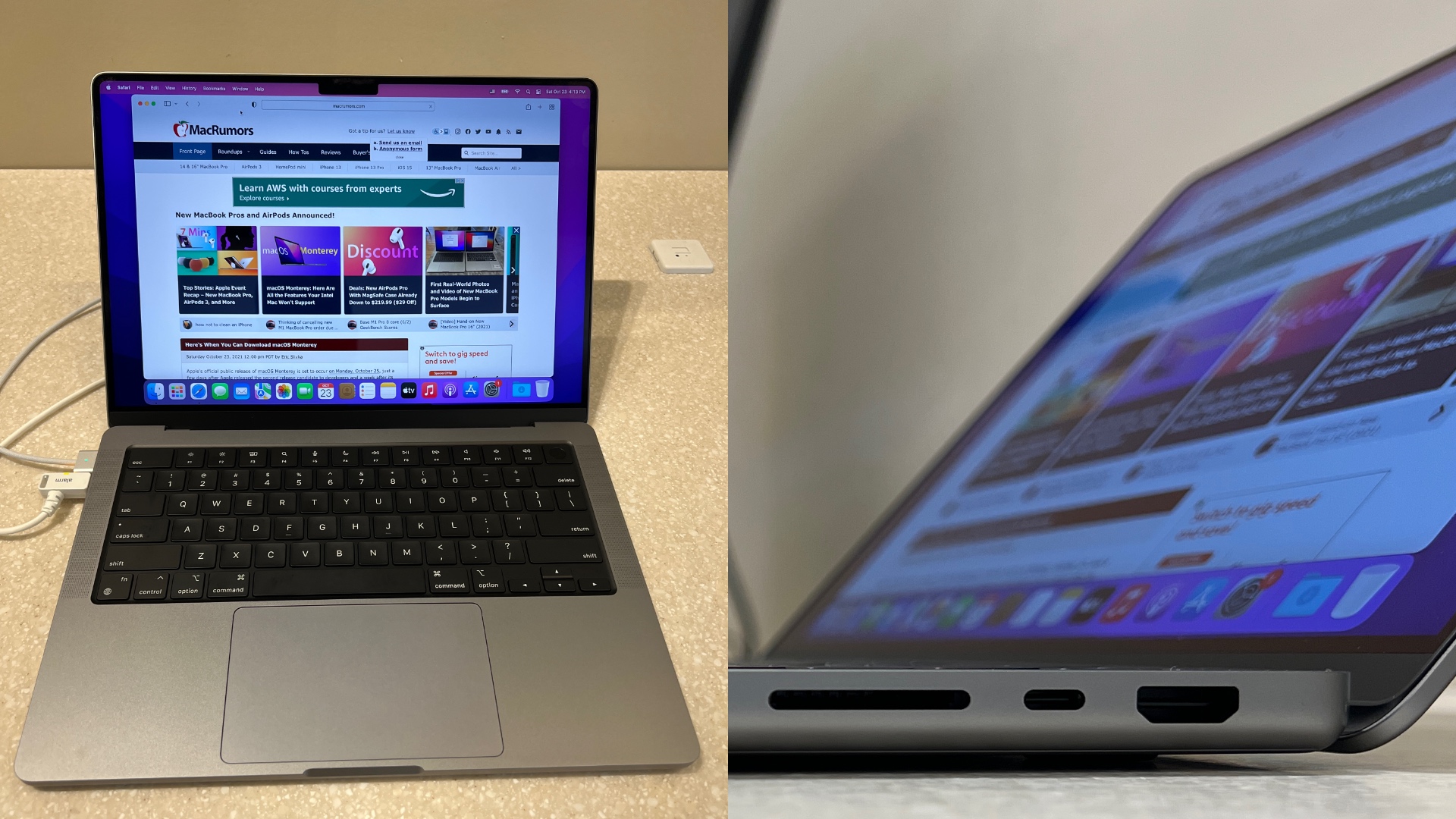 Ahead of an official launch later this week, new images sent to MacRumors show the new 14-inch MacBook Pro on display at an authorized Apple Retail provider, offering us an even closer look at Apple's entirely revamped MacBook Pro.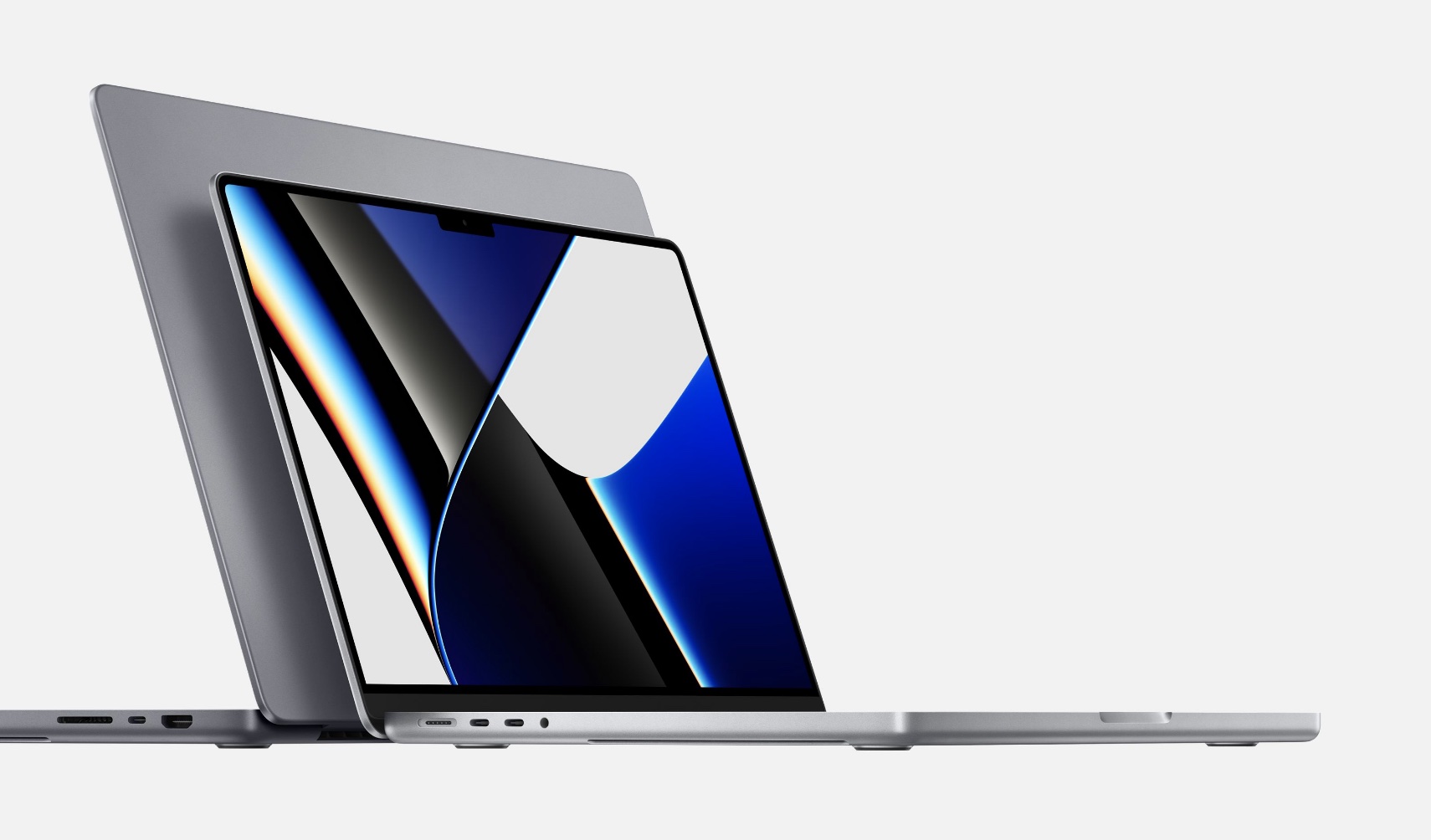 The first seemingly legitimate Geekbench 5 result for the base model 14-inch MacBook Pro with an 8-core M1 Pro chip has surfaced, and it reveals that the 8-core model is, as expected, ~20% slower than 10-core models in terms of multi-core performance.



RELATED ARTICLES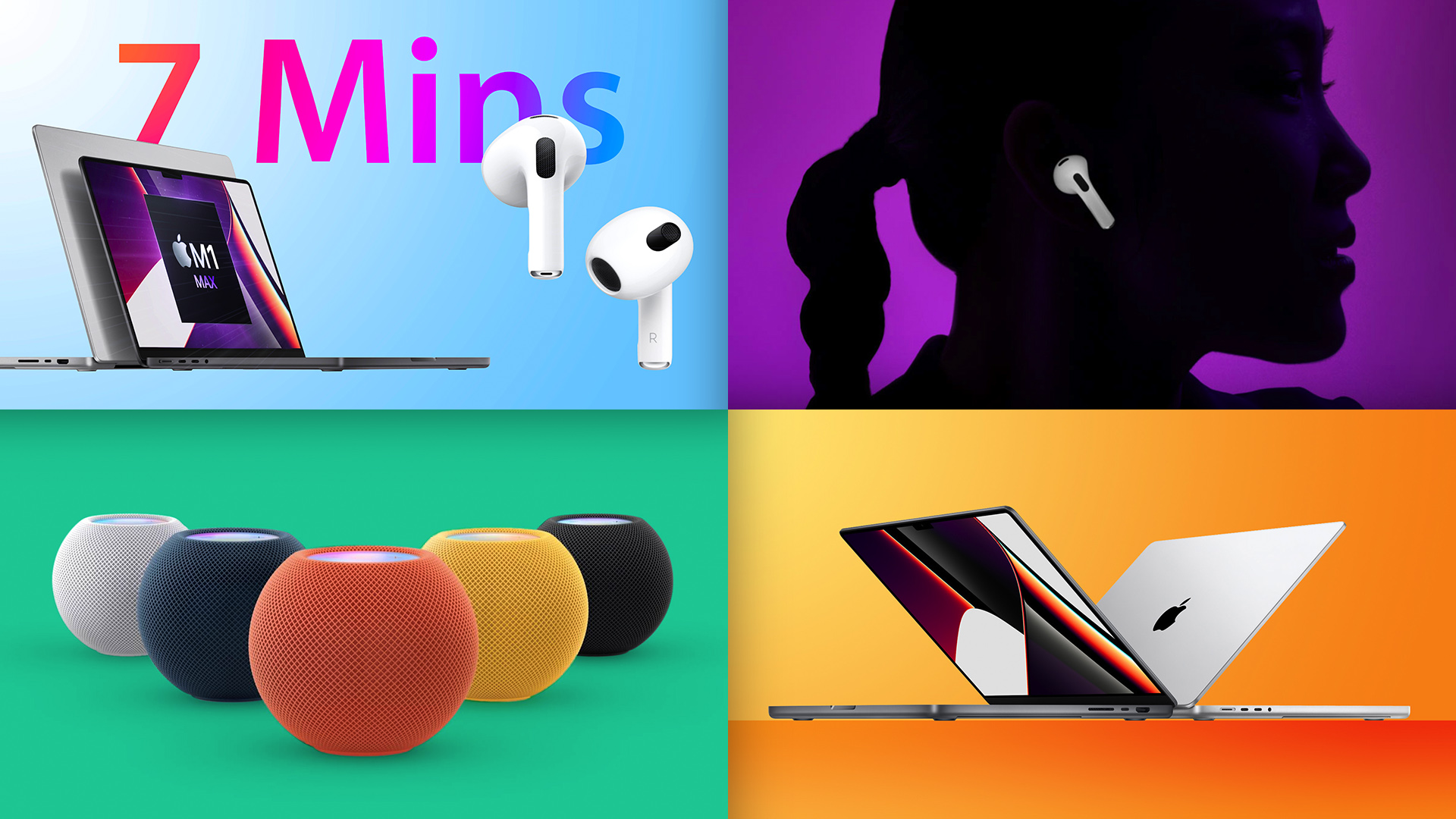 The news this week was dominated by Apple's Monday event, with the company spending most of its time talking about the new MacBook Pro models with M1 Pro and M1 Max chip options, although we did get a few other announcements at the event.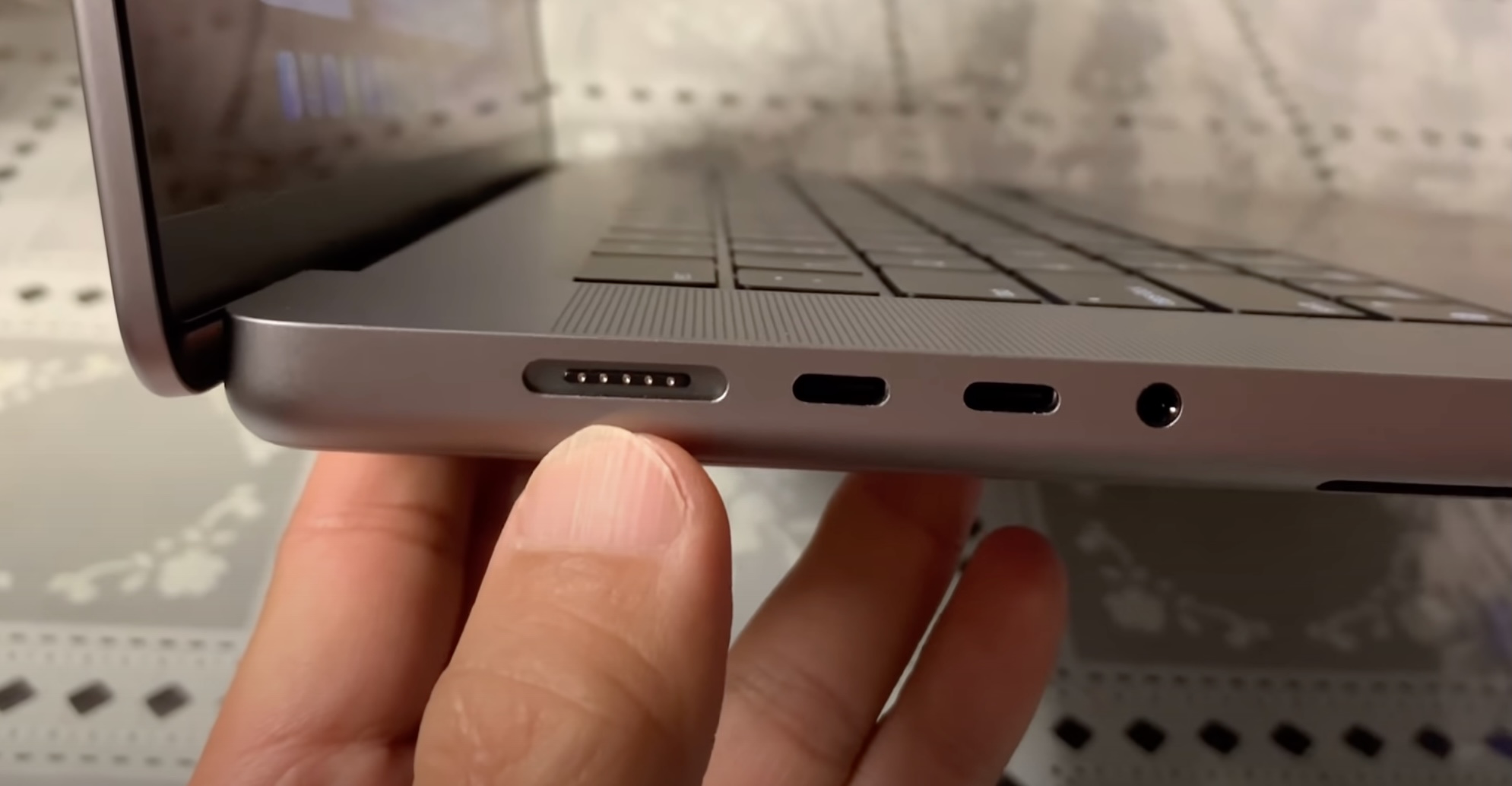 A new video posted to YouTube today offers viewers perhaps the best real-world look yet at Apple's latest 16-inch MacBook Pro.


Apple's new 14-inch MacBook Pro gets its first price break, and there are even bigger discounts on Windows laptops and 2-in-1 convertibles.
After a long run of teasing the RGB-lit Zephyr mask, Razer is finally ready to sell it to die-hard fans — or possibly cosplayers. The Zephyr costs $100 or there's a $150 Starter Pack with three replacement filter kits. Alas, the Starter Pack is already listed as "out of stock," and the mask by itself is still "coming soon."

Yes, you can customize the lighting through a companion app, but the highlight is a dual-fan active air filtration system with N95 filters — something I'd never thought I'd be writing about a Razer device.

— Mat Smith



Microsoft Surface Duo 2 reviewIts second dual-screen hybrid is another letdown.EngadgetMicrosoft's dual-screen ambitions continue to struggle. Upgraded hardware and a new Glance Bar don't mean much when the Duo 2 is still plagued with inconsistent, finicky software. The new triple-camera array is held back by an atrocious camera app, and thermal issues cause the device to hang. All of this will cost you $1,500.

Continue reading.



'Uncharted' movie trailer plays Nathan Drake's greatest hi
Apple has yet to issue a mandate similar to Google's that would require all employees to be vaccinated, but it's tightening its COVID-19 protocols nonetheless. According to Bloomberg, the tech giant will start requiring all unvaccinated corporate employees to be tested for COVID-19 every time they have to work in the office instead of working from home. Back in September, Bloombergreported that Apple asked employees to share their vaccination status voluntarily. Those who refuse to share their vaccine status will also have to undergo daily testing, while vaccinated office workers will only have to do rapid testing once a week. 

The company's retail store employees, however, won't be subjected to daily tests despite having consumer-facing jobs. Unvaccinated staff members are required to be tested twice a week. Like Apple's office workers, vaccinated staff will only have to undergo weekly rapid testing. It's unclear if the tech giant will ever issue a COVID-19 vaccine mandate, but the Biden administration previously gave all federal contractors a December 8th deadline to require all their employees to be inoculated against the virus. As Bloomberg notes, Apple sells products to the US government.

For now, Apple has reportedly given employees an October 24th deadline to report and show proof of their vaccination status, so it could implement the new rules starting on November 1st. Unvaccinated employees will have to pick-up at-home rapid tests from Apple offices and stores, do the test themselves and then report their results through an internal app.


At its event on Monday, Apple announced new 14- and 16-inch MacBook Pros powered by their new M1 Pro and M1 Max chips. Benchmarks for the M1 Pro are nearly double that of the M1, and the M1 Max is even more powerful. As Apple continues on its two-year transition to Apple silicon, its chips' specs outperform those of competitors. Still, not everyone wants or needs a Mac, and Intel has its own super fast chip in the works. So, how can Apple continue to innovate upon its system-on-a-chip architecture, and will the company continue to outpace competition? Macworld executive editor Michael Simon and Computerworld executive editor Ken Mingis join Juliet to discuss what Apple's new MacBooks suggest about the future of the Mac, what that future means for competitors and what users should consider before upgrading. 

To read this article in full, please click here


At I/O 2021, Google reiterated its commitment to Matter with a handful of smart home-related Nest and Android updates. If you need a refresher, Matter was known as Project CHIP, or Connected Home over IP, before a rebranding this past May. It's a pact between some of the biggest companies in tech, including Google, Amazon and Apple, that aims to bring standardization to the fragmented smart home space. When it launches in the first half of 2022, it will support a variety of voice assistants and networking protocols, including Alexa, Google Assistant, Siri as well as WiFi, Thread and Bluetooth LE.

At its simplest, the promise of Matter is that you'll be able to buy a new device and it will simply work with your existing smart home setup. To support that vision, Google is introducing new tools to help developers build and integrate Matter devices into its wider smart home ecosystem. It starts with a new but familiar name for the company's smart home devices and developer platform: Google Home. "By bringing our platform and tools under the same roof, it gives us a simpler way to show you why and how integrating your devices with Google Home makes them more accessible and helpful across the Google ecosystem," the company said.

As part of the rebranding, will launch a redesigned Developer Center early next year. It says the dashboard will include everything developers need to build devices and applications that work with the wider Google Home ecosystem. It will support Matter at launch and Google will release two software development kits. T
Microsoft isn't giving up on its dual-screen dreams. The company is back this year with a new Surface Duo that looks like it might fix some of the original's flaws. Instead of a finicky and low-quality camera, the Duo 2 packs a triple-sensor system on its rear, in addition to a selfie shooter inside. The device also has a narrower overall footprint, faster-refreshing screens and some updated software. There's also support for Microsoft's Slim Pen 2, which should make drawing and taking notes a more intuitive experience.

But despite having addressed many of the previous generation's issues and adding some useful features, the Duo 2 remains a frustrating device. And at $1,500, it's still a pricey product with a niche, limited appeal.

Hardware and design changesBy now, you're probably familiar with the Duo's proposition. The second generation features a pair of 5.8-inch screens connected by a hinge. It's also running Android 11 this year, with some tweaks to improve multi-display use. Combined, the two panels offer an 8.3-inch canvas, which is slightly bigger than before. You can flip one screen all the way around to use the Duo 2 in a phone-like single-screen state, use one side as a stand to prop up the other half or have both displays facing you like a book or tablet.

Like the original, th
Database migrations are some of the most dreaded initiatives in IT. Bring up the subject of migrations with any IT executive and one gets a strong visceral reaction. Too many careers have been wrecked by failed migrations. Clearly, conventional techniques using code conversion just don't work. Especially when it comes to migrating an enterprise data […]

The post How Database Virtualization Helps Migrate a Data Warehouse to the Cloud appeared first on eWEEK.