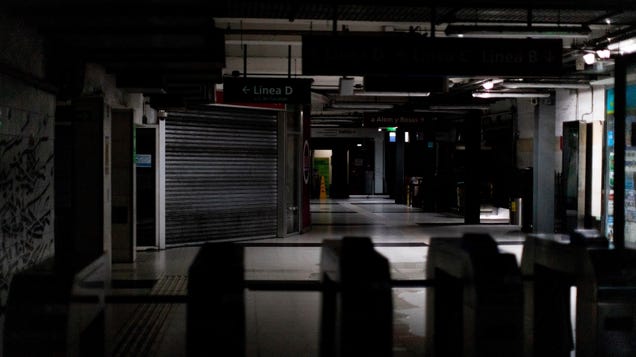 Almost the entirety of the nations of Argentina and Uruguay, were "completely without power" following a "massive failure" in an electrical system on Sunday, Bloomberg and CNN reported, with parts of Paraguay, Chile and southern Brazil seeing outages as well. The Associated Press estimated over 44 million people lost…

Read more...



RELATED ARTICLES
A few months after nabbing a handsome $500 million funding round, China's shared housing startup Danke Apartment got a talent boost. On Monday, Danke announced the appointment of Gu Guoliang as its new chief operating officer to ramp up the company's offline operational crew. Gu, whose nickname is Michael, stepped down from Baidu after five […]
Argentine President Mauricio Macri called the massive blackout that left tens of millions in South America without power on Sunday "unprecedented", and promised a thorough investigation. Argentina's grid "collapsed" around 7 a.m. local time (1100 GMT), leaving the entire country without power, Argentina's Energy Secretariat said. The outage also cut electricity to much of neighboring Uruguay and swaths of Paraguay, and shut down YPF's La Plata refinery, Argentina's largest.


Argentina and Uruguay are entirely without electricity after the countries' interconnected network failed, according to energy distributors in the region.The failure is thought to have occurred shortly after 7am on Sunday, leaving officials scrambling to restore electricity."A massive failure...in the system left Argentina and Uruguay without power," a spokesperson for energy company Edesur said in a statement.The company has 2.5m customers, according to its website.Edenor, Argentina's largest energy company, also tweeted about the failure, as millions woke to the blackout."Due to a general failure in the interconnection system, Argentina and neighbouring countries are without electricity," the energy distributor said. "Minutes after 7:00 a general failure in the Argentine Interconnection System (SADI) affected the entire country. While the causes are unknown at the moment, it is estimated that in three hours the electricity service could begin to be gradually re-established."EPEC, another Argentinian energy company, said the outage had affected most of the country, including Córdoba, Santa Fe and Buenos Aires.UTE, Uruguay's electricity body, also confirmed the account on Twitter."At 7.06 a defect in the Argentine network affected the interconnected system leaving the entire national territory without service," the organisation said.UTE said work was underway to restore power. The company added that electricity had been restored to some cities on Urugu