Following the shooting death of a Black transgender woman in South Florida on Friday, about 25 people gathered Sunday afternoon in Pompano Beach to mourn her death.


Kremlin-controlled Russian state media set out to tickle U.S. President Trump's fragile ego amid falling ratings after his blustery appearance at Mount Rushmore on Friday. Mentioning that the American head of state had previously toyed with the idea he might be featured alongside Washington, Jefferson, Teddy Roosevelt, and Lincoln, Russia's premier state media channel Rossiya-1 aired a graphic of Trump's mug right up there on the mountain beside them. Given the frequent allusions on Russian state media to Trump as Moscow's friend, even Moscow's "agent" in the White House, maybe the Kremlin would like to see the enormous monument renamed Mount Russia-More. But there were signs on Saturday, July 4, that, for now, Trump and Russian President Vladimir Putin are trying to keep their longstanding bromance in check, at least where the official record is concerned. Putin sent a telegram congratulating U.S. President Donald J. Trump on America's Independence Day. Interesting move. By avoiding a phone call Putin also avoided any direct pressure to address reports about the Kremlin paying bounties to the Taliban to kill American soldiers and coalition forces in Afghanistan.Prior to the bounty leaks flooding out of the U.S. intelligence community, the calls between Trump and Putin had become unusually frequent, but those revelations put the brakes on the presidential chatter. Trump Uses Mount Rushmore Event to Sic Supporters on 'Evil' ProtestersTrump—who is at least as reluctant as Putin to discuss the matter—had also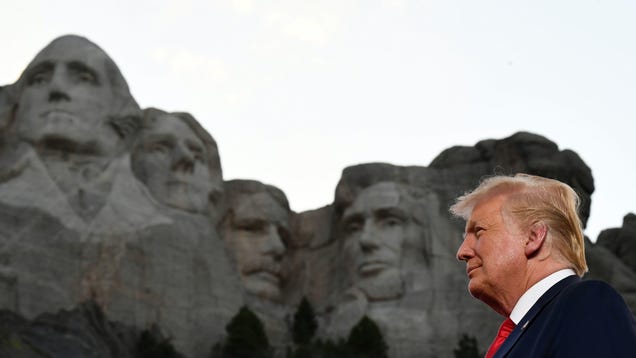 In the shadow of Mount Rushmore on Friday, President Donald Trump decided to celebrate the nation's Independence Day by launching a diatribe against liberals, cancel culture, and the "angry mobs" of protestors toppling statues of colonizers and white supremacists. While that may just sound like another Friday at this…

Read more...