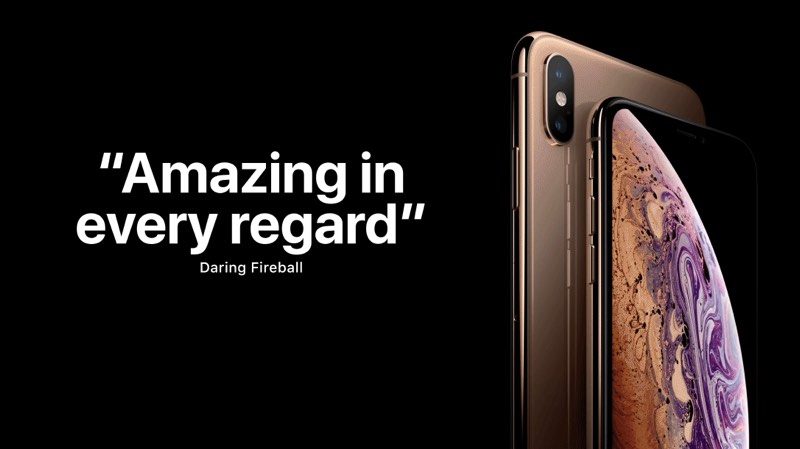 Reviews for the iPhone XS and the iPhone XS Max went live this morning ahead of Friday's launch, and in a new press release, Apple has highlighted reviews from several members of the media who were able to spend some time with the new iPhones.


Microsoft Corp announced on Tuesday new AI and mixed-reality applications for its Dynamics 365 online business software, putting to use its augmented-reality goggles HoloLens for businesses.
Tesla Inc said on Tuesday the U.S. Department of Justice was investigating Chief Executive Elon Musk's public statements in August that he was considering taking the electric carmaker private, the latest and biggest threat to Musk and his leadership of the electric car maker.
Microsoft HoloLens mixed reality glasses have always been interesting technology, but it's never been clear how the company would move from novelty device to actual viable business use cases. Today, it made a move toward the latter, announcing a couple of applications designed to put the HoloLens to work in Dynamics 365, giving it a […]
The Renault-Nissan alliance has picked Google's Android operating system to power its next-generation media system, the Wall Street Journal reported on Tuesday.
With the demand for information technology professionals rising, earning an IT certification can be a lucrative career choice. There are dozens of IT certification providers, one of the most popular being Microsoft. If you'd like to learn what it takes to become a Microsoft-certified IT professional, the Ultimate MCSE Certification Training Bundle and Ultimate MCSA Certification Training Bundle are good places to start.

To read this article in full, please click here