Google is preparing to use light beams to bring rural areas of the planet online after it announced to a planned rollout in India. The firm is working with a telecom operator in Indian state Andhra Pradesh, home to over 50 million people, to use Free Space Optical Communications (FSOC), a technology that uses beams of light to deliver high-speed, high-capacity connectivity over long… Read More
The FCC kills net neutrality, Snapchat launches Lens Studio and Squarespace reportedly raises $200 million. All this on Crunch Report. Read More
 Airwallex, an Australia-based fintech startup that helps banks and businesses handle cross-border transactions at scale, has closed a $6 million investment ahead of a planned Series B next year. The new funding comes from Square Peg — a VC firm located in Melbourne, the same city as Airwallex HQ — which joins Tencent, MasterCard, Gobi Ventures and Sequoia China as backers of… Read More


Batteries are the engine room for so much of the modern world, from smartphones to laptops and weird new scooters to the emerging fleets of autonomous trucks. So there are plenty of folks with an interest in pushing battery technology forward, and 2017 brought a raft of exciting breakthroughs aimed at making them safer, longer-lasting, faster-charging and more cost effective. Here's the best of the bunch.

.. Continue Reading Powering up: The biggest battery breakthroughs of 2017

Electronics

Batteries Best of 2017 Lithium-ion Lithium-air batteries are getting safer, cheaper, and longer-lasting Additives keep lithium-ion batteries from catching fire Lithium metal battery prototype boasts 3 times the capacity of lithium-ions Asphalt-lithium metal batteries fully charge in five minutes Lithium-ion battery boost could come from 'caging' silicon in graphene Cheap new alloy may double the anode capacity of lithium batteries
SEOUL (Reuters) - South Korean messaging app service provider Kakao Corp said on Friday it is targeting raising up to $1 billion overseas for use in global mergers and acquisitions.
The tech industry was vocal in its opposition to the FCC's decision to reverse Obama-era net neutrality policies.

RELATED ARTICLES
 Everyone's least favorite ads are coming to Facebook, but pre-rolls are only coming to original Watch tab videos you purposefully view and not to the News Feed. Facebook is embracing pre-rolls after years of shunning them as it tries to make pay outs to video creators sustainable. Facebook's head of video Fidji Simo tells TechCrunch that it will not renew direct subsidies to Live… Read More
 Google and NASA today announced the discovery of a new planet in solar system Kepler 90, achieved using machine learning. By applying neural networking to Kepler data, scientists have found, for the first time, an eighth planet in the Kepler-90 system – this ties the Kepler-90 system with our own system for the most planets in any known system. Kepler-90 i is the new planet discovered… Read More
 Google today is expanding its booking features for travelers using Google services including Trips, Flights and hotel search, with a focus on helping people find better rates. For example, Google can now tell you when's the best time to buy an airline ticket or see when room rates are higher, among other things. These price-tracking features are similar to those that some other travel… Read More
 Hyperloop One co-founder and early Uber investor Shervin Pishevar has announced his resignation from Sherpa Capital, the venture capital firm he co-founded, following sexual misconduct allegations. "I have decided on my own accord to end my association with Sherpa Capital, effective immediately," Pishevar tweeted, as part of a lengthy statement. I have only admiration and affection… Read More
 The FCC voted this morning 3:2 to nullify 2015's Open Internet Order and its strong net neutrality rules, substituting a flimsy replacement with a deeply (and deliberately) incorrect technical justification. The battle is lost. What of the war? Here's what happens next, and what you can do to help. Read More
SAN FRANCISCO (Reuters) - Silicon Valley investor Shervin Pishevar, known for his early bet on Uber Technologies Inc, said on Thursday that he would sever ties with his venture capital company, Sherpa Capital, after being accused of sexual misconduct.
 AI pioneer Andrew Ng is probably best known for his work on the Google Brain project and for leading Baidu's AI group. After leaving Baidu earlier this year, it wasn't quite clear what exactly Ng was up to, but today he announced the launch of Landing.ai, a new startup that focuses on bringing artificial intelligence to the manufacturing industry. Read More
 Disney CEO Bob Iger positioned his company's acquisition of Fox's TV and movie businesses as a way for the company to prepare for a future in which streaming and direct-to-consumer dominate media consumption, on a conference call this morning to discuss the $52 billion deal. He noted that while they're still planning to support cable channels and external distribution… Read More
Andrew Ng, formerly of Google and Baidu, has a new company to help manufacturers use artificial intelligence techniques.
SEOUL (Reuters) - A South Korean blockchain association announced on Friday measures to boost transparency in trading of cryptocurrencies, agreed by 14 exchanges in the country including the world's busiest virtual currency exchange, Bitthumb.

RELATED ARTICLES
 The iMac Pro exists because it turns out that there is a lot of air underneath the aging Mac Pro and above the incredibly popular MacBook Pro. A single-digit percentage of Mac customers buy the Mac Pro and, in recent years, Apple had been seeing a major rise in "pro" customers of all shades purchasing iMacs because of their incredible screens, all-in-one form factor and overall ease… Read More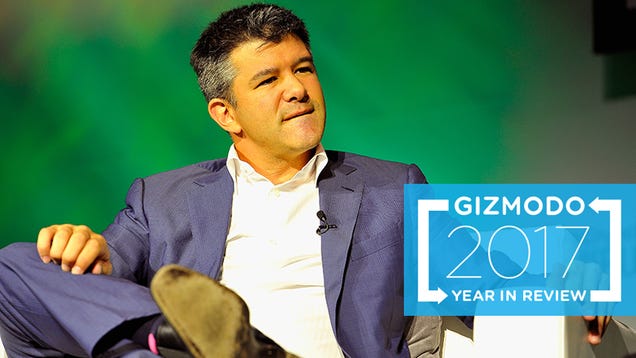 As 2017 comes to a close, it's as good a time as any to reflect on how the year went for some of the most attention-grabbing tech companies, ordered here conveniently from most screwed to least screwed.


Read more...


Artificial intelligence in the workplace is here to stay. However, as enterprise technologies continue to develop and evolve, we must understand how…
 Squarespace, the 14-year-old platform that makes it easy for essentially anyone to build their own website, is raising about $200 million from General Atlantic, valuing the company at a $1.7 billion valuation, Bloomberg reports. The plan with the funding is to buy stock from early employees and investors, giving them a way to cash out if they're not trying to wait around for an… Read More